Clarksville Realty Market Report:
Here in our local market, Clarksville seems to be bouncing back, according to our January numbers. As you can see from the graph below, there seems to be a bit of a pattern for the month of January that started in 2005.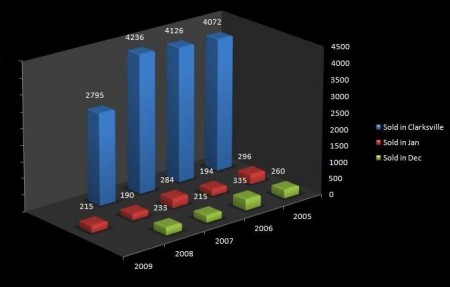 This pattern seems to be following the previous years. In 2006 and 2008 our numbers were in the $190's. In 2005, 2007 and 2009 our numbers are in the $200's. We do show the numbers for 2009 are lower range of $200's whereas 2005 and 2007 are in the $280-290 range. Still it is a sign of movement!


In the blue column you will see the total numbers, according to our local multiple listing service.

In 2005 we sold from January 1 – December 31, 4072 properties. In 2006, 4127. In 2007, 4236.

So, when the Nation was showing a decline in 2007, we were in our biggest year! The year 2008 is where we saw the 34% decline in sales. We show that in December, 2008,  we were ahead of 2007! In December of 2007 we had 215 sales that month.

In December of 2008 we were up 8% at 233 closings!

So if we can base our future off the past, and for the record I don't have a crystal ball, it would show that we should be in a good year for 2009. If you would like to see a graph based on your subdivision in Clarksville, please contact us or call (931) 206-2156.



About Thea Long
As an Assistant Loan Officer for VA Mortgage Center and a retired REALTOR® with Coldwell Banker Conroy, Marable & Holleman, Thea has been investing in Real Estate for 12 years now. She has been a member of the Chamber of Commerce since 2007. In her spare time, she sings the National Anthem for Chamber events, military events and sporting events, including the Nashville Predators opening season in 2007/2008, and the Nascar Qualification at the Atlanta Speedway 2008. She is currently Ft. Campbell, KY Operation Rising Star 2009.

Thea Long, previously Agnew,  is no stranger to Clarksville, TN. Raised in a military family, she graduated from Northeast High School and all three of her children are attending and graduating from her alma mater.  Her hobbies include writing, reading, research, marketing & design, blogging, sports and exercising.

Web Site: http://www.diariesofafruitcake.com/
Email:
Sections
Business, News

Topics
Business, clarksville homes for sale, clarksville market update, clarksville real estate, multiple listing service, real estate market report