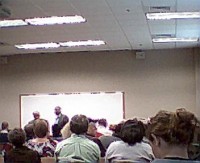 Austin Peay State University's Department of Language and Literature, Center for Excellence in the Creative Arts, African American Cultural Center, Hispanic Cultural Center, and numerous other entities joined forces to present the 14th Asanbe Memorial Symposium with guest lecturer Dr. F. Abiola Irele, Harvard University.
The Asanbe Symposium was started many years ago with a charge to the Multiculturalism Committee in the Department of Language and Literature. Over time, the Symposium has come to be an avenue to promote general diversity in the literary arts, and also our understanding of them.
As it has moved from serving the department, to the university and now to serving our community at large, Symposium speakers have presented on a variety of topics including Ghandi, Europe, the Holocaust, Feminism and many other topics. It became known as the Asanbe Symposium 14 years ago as a tribute to Joseph Asanbe, first professor of African and African American Literature at APSU.
Dr.  Irele was also the keynote speaker 14 years ago at the first Symposium named for Asanbe and returned for this symposium. Also in attendance were Dr. Comfort Asanbe of CUNY and the Asanbe's children Dr. Irele has his degrees from the University of London and The Sorbonne, Paris. His academic specialties are in African and Afro as well as Romance Literature, Francophone (French speaking) African traditions, and the African Oral Tradition. He is currently a visiting professor of African Studies, and African and Romance Literature at Harvard University. Other highlights from Dr. Irele's career include being on the editorial staff of the widely known Norton Anthologies and Oxford Anthologies.
Dr. Irele's lecture for this year's Symposium was on"Orality and Literature—The African Example." Dr. Irele's lecture started by noting that from the perspective of our literate culture, the idea of spoken word as a form of literature is a foreign thought. However, in Africa oral tradition is extremely important. The African Continent has more than 1,000 distinct languages (yes, languages, not dialects) virtually all of which are tonal languages that are badly represented by an alphabet. However, Dr. Irele also notes that in an oral culture, the line between simple writing and the modern meaning of literature is very hard to distinguish.
Dr. Irele sets out that the identification of Oral Literature, which fails to fit the poetry/prose dichotomy and is generally multi-genre, by its form and its function. Dr. Irele's final point for this is to say that to understand, we need to place African Literature and its Oral component in a comparative view as part of the culture and awareness that are distinctly African.