At the "World's Biggest Fish Fry," they know catfish and they do it proud!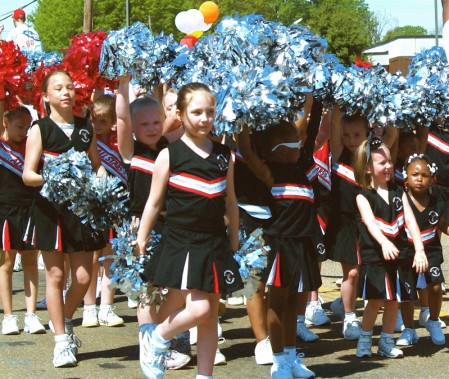 The annual West Tennessee festival is a three-day celebration that draws from all points West of Dover. Pageant winners, from the cradle and petite, to the more traditional teens and young ladies, civic groups, marching bands, medical care entities and agricultural assets all participate in this annual bellringer of West Tennessee's Spring and Summer festival season.
Floats, beauty queens, little princes and princesses, royalty courts, clowns, roving souveneir vendors, pee-wee and high school cheer squads, cowboys, cowgirls and horsemen of all stripes, drag racers, Shetland ponies, motorcyclists, recreation centers, coon dogs, classic and antique cars all fill up the line-up for the big parade. The streets of Paris are lined with spectators who come to view the parade of floats and all, but also people watch the crowd as it migrates as well. Law enforcement support comes from a wide area as well. That is  only fitting for a celebration that draws from Martin to Memphis for participants.
The atmosphere is at once friendly, welcoming and anticipatory of the sights to behold during the course of the 'Big Parade.' You have to keep that distinction in mind as the 'little ones' have their own show on Saturday. It's not nearly as large but the youngsters do enjoy the spectacle of the production. Police officers are helpful in aiding drivers onto alternate routing and parking options. Local businesses loan ATVs for crowd control usage and parade management services.
Local and regional politicos lead off the parade and the pageantry of color, sound and spectacle comes alive with wonder and amazement. It's nearly two hours of child-like pleasure as the parade's floats and other entries proceed towards the Grand Reviewing Stand.
The sunny sky and cool breezes keep the temperature in check. However sun block is definitely well advised. SPF 50 was this writer's lotion of choice. That along with a comfortable Panama Straw and all went well. For any who have not yet made the short drive, you owe it to yourself to visit the Paris Fish Fry in April. Of course, there's more, much more to it than "All-You-Can-Eat" Catfish dinners,  but for ten bucks it's a good start.    [To be continued…]
[Photos by Turner McCullough Jr.]