Asks House to take up the issue this legislative session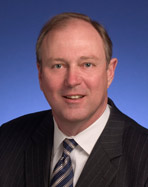 NASHVILLE – Senator Jim Kyle of Memphis today urged that the future of the Ethics Commission be decided during this legislative session.
"Don't presume the Ethics Commission has been abolished just because one House member says it's been put over until the next session," Senator Kyle said.
This is important to good government, and it's important to Tennesseans. I urge the House to take it up this session.
Senator Kyle called on House leadership to address whether the Ethics Commission should be preserved and not to delay the matter until 2010, as one House member has moved to do.
"The commission belongs to Tennesseans," Senator Kyle said. "The Ethics Commission was the proud result of a laborious process. There have been problems, and ethics have never been more important. Let's see what we can come up with this year."
House Republicans have sought to let the Ethics Commission expire. Senate Republicans have moved it out of committee for a vote on the Senate floor.
About Senator Jim Kyle
Senator Jim Kyle represents portions of Shelby County.
You can Contact his office at or via postal mail at:
Senator Jim Kyle
309 War Memorial Building
Nashville, TN 37243.