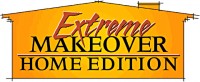 How do you build a dream? For ABC's Extreme Makeover Home Edition you do it one family at a time. You take community craftsmen, area businesses, and every day people like you and me. You mix them all together, and 106 hours later something wonderful comes out. In this case it's a new home for a deserving family; a renewed sense for people in the community, that yes we can make a difference; and for the people who worked on making it all come true, a sense of accomplishing something special.
On Oct. 17th, a Clarksville area families home will be demolished, rebuilt, furnished and decorated in under 106 hours. The work will be done using local volunteers under the direction of builders Bert Singletary and Don Duncan. It is anticipated that more than 2,000 volunteers from the Montgomery County area will participate in the exciting one-week project.Volunteer sign ups are still being accepted at the build website – www.extremevolunteer.com.  Volunteer guideline information is available on the website.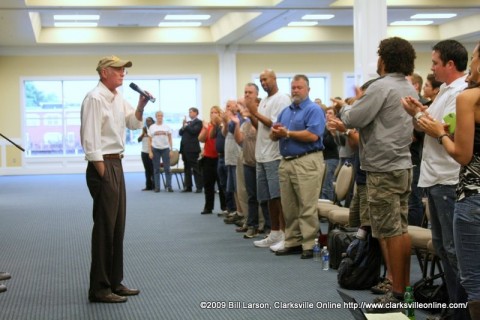 The build will begin with the family being notified at the "Door Knock" between 8 a.m. – 10 a.m. Saturday, October 17.  The Braveheart Walk, the traditional kickoff of the build will be at approximately 2:30 that day.  Information about the family and directions to the check-in site for the walk will be posted on the website following the door knock.   The completed home is to be revealed to the family with the "Move that Bus" cheer at 2 p.m. on Friday, October 23.
Executive Producer Conrad Ricketts put it best as he addressed the assembled volunteers and craftsmen at the Extreme Volunteer Pep Rally at First Baptist Church this morning, "This is like no job you've ever been on before!" Stressing that safety and producing high quality work are the major goals of this project, Ricketts also pointed out that participants should be having fun while working on the project. "Bring your families with you to cheer you on".
The average home construction project takes four months to complete, but during this project the time scales are highly compressed. Every hour is roughly equivalent to a day, and every day a month.
More help is needed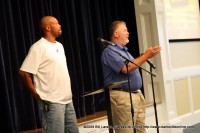 This project involves framers, plumbers, painters, roofers, welders, electricians, etc, and every day people volunteering their time.
While many of the trades people have already stepped up there are plenty of jobs and other needs that the production crew still could use your help in filling.


On the construction side
Materials:
Vinyl Siding
Roofing Material (Asphalt)
(20) Sheets of 4x8x3/4 MDF
(20) Sheets of 4x8x3/4 Birch Plywood
Vinyl Deck Railing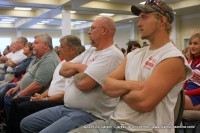 Skilled Workers:
10 roofers
20 painters
20 siding installers
40 drywall installers
4 cabinet installers
On the Design and Decorating side
Items:
Furniture
Computers
Fabric
Books
Gift Cards [Amex, Target, TJMaxx]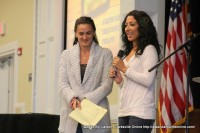 Experienced Craftsmen:
Murphy Bed Manufacturer [custom furniture shop]
Custom Framer
Seamstress
Upholsterer
Florist- Fresh Flowers
Drapery Installers
Oversized Sicker Printer
Wallpaper Hangers
Custom Mirror Company
Welder- steel
Faux Painter
Muralist
Autobody/ Powder Coating Shop
Contributors to the project will be listed on ABC.com which receives roughly 6 million daily visits.
No time? Still want to contribute? Make a cash donation!

You can make a cash donation for this project at any of the area F&M Banks. Just go in and let them know you want to make a donation to the Extreme Makeover Home Addition Project account. All donations will be used directly for the project, and to provide additional assistance to  the family that is chosen.
Photogallery