Austin Peay State University senior outside hitter Stephanie Champine has been named the Ohio Valley Conference's "Player of the Year," the league office announced, Wednesday. In addition, she was named first-team All-OVC along with junior setter Sarah Alisaleh while junior middle blocker Jessica Mollman received second-team All-OVC honors.
Champine becomes the third Lady Govs all-time to receive the league's "Player of the Year," joining Connie Caldwell (1987) and Isabel Canedo (1992). In addition, it is the first time in program history that three players received All-OVC (first or second team) honors in the same season.
"When I first met this team back in March, there was a prevailing sentiment the other coaches in the OVC didn't respect the athletes of Austin Peay as much as they perhaps should have," said Austin Peay head coach Mike Johnson. "My challenge to them was to simply worry about getting better each day and the fringe benefits such as All-Conference awards would come. Our team has taken that mindset to heart, and I'm proud of the gains we have made. I am so very happy for all of the Lady Govs. These are team honors, and Champ, Sarah and Jess would be the first to tell you that."
Champine, of Lambertville, Mich., was named first-team All-OVC for the second consecutive year, becoming the third APSU player to receive back-to-back first-team honors, again joining Caldwell (1986-87) and Canedo (1991-92) among a select group.
Champine led all OVC players with 4.50 kills per set in league play this season. In fact, her 309 kills during the league's 18-match slate were 106 more than the next closest hitter in league action. Champine also led the league in points, averaging 5.07 points per set.
Through the end of the OVC regular-season, Champine was ranked 21st nationally in kills, averaging 4.35 kills per set, and 28th in points, averaging 4.76 points per set. Her 470 kills this season are third-most in program history and her .258 attack percentage is 11th-best in a single-season. Her 875 career kills are the second-most by a junior college transfer, 40 behind the mark set by Canedo (915, 1991-92).
"The best words I can use to describe Stephanie's season are she has been 'consistently dominant,'" said Johnson. "I can count on two hands the number of times she was willing to put this team on her back and will us to victory. The most impressive part of what she has done is every team knew what she was capable of – she didn't fly under the radar by any means. Instead, people would gear their entire defense towards stopping her, and she would still post kill after kill against them.
"While her statistics alone are mind boggling, they don't tell the whole tale of what she has meant to this team. In addition to her offensive prowess, she is also one of our best defenders, stabilizes our serve receive, and is one of our captains. We talk to our team all the time about being a 'complete player.' Champ has been exactly that."
Alisaleh, of San Antonio, Texas, joins Champine on the All-OVC first team squad, her first career honor. They become only the second pair of APSU teammates to receive first-team All-OVC honors in the same season, joining Canedo and Melissa Gailey who were both named to the 1992 All-OVC squad.
Under her guidance, Austin Peay ranked second in both team attack percentage (.250) and kills per set (13.03) in league play. Alisaleh statistically was ranked as the league's best setter, averaging 11.15 assists per set in OVC play.
Alisaleh currently is ranked 55th nationally in assists per set (10.63) overall this season. That average ranks seventh-best in a single-season, two years after she posted a school-record 11.89 assists per set.
"Much has been made of late of the faster offense we have been employing," Johnson said. "The lynchpin towards pulling it off though has always been accurate serve receive passers and a setter that can locate very precisely. We feel very fortunate that Sarah has developed into the latter. With the bevy of talented hitters in our midst, it can be easy for some to overlook Sarah's talents. I can say with complete confidence, though, that Sarah is an integral reason those hitters look as good as they do. Through tremendous poise, she has kept this offense in rhythm all year."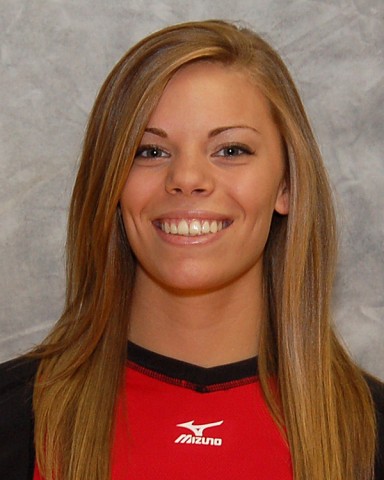 Mollman, of Cincinnati, Ohio, was selected second-team All-OVC, her first career honor. After getting off to a slow start in non-conference play, she picked up her performance in conference action finishing seventh in attack percentage (.312) among OVC hitters. She was third on the team in kills per set (2.36) during OVC play and posted a career-high 65 blocks through the regular season's end.
"Jessica has made great strides over the course of the season," said Johnson. "She has always had the ability to get kills, but after taking charge of the intellectual aspect of the game, she has really blossomed. Our offense flows when our middles get hot, and Jess has surely been making that a habit of late. Also, Jess has also been a powerful motivating force behind the scenes, and for that we have all better. It's also important to note that great ball control is fundamental for being able to effectively run attacks out of the middle, and an honor for a middle hitter is as much an honor for our serve receive passers – Champine, Kirstin Distler, and Paige Economos."
Austin Peay returns to action at the 2009 Ohio Valley Conference volleyball tournament at Jacksonville State. The tournament begins Thursday with first-round action. The Lady Govs, who receive a first-round bye, will face the winner of the Morehead State-Eastern Kentucky first-round pairing in a 7:30 p.m., Friday semifinal contest.