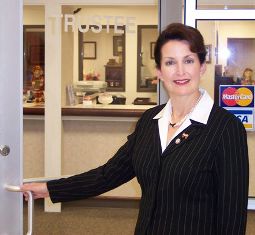 Brenda E. Radford, the Montgomery County Trustee, was recently elected President of the Middle Tennessee Trustees Association.
Radford took office during the November 16th-19th, 2009, Tennessee County Officials Association Conference held in Nashville. She has just completed a two-year term on the Tennessee County Officials Association Board of Directors.
"I am honored to serve and I am humbled to be elected by the Middle Tennessee Trustees as their 2010 President," Radford said. "I look forward to a very productive year as we work together to serve the people of Middle Tennessee."
The Middle Tennessee Trustees' Association covers 41 counties and is an affiliate association of the Tennessee Trustees' Association and the
Tennessee County Officials Association. The objectives of the organization are to advance the profession of the County Trustees in Tennessee through education, mutual support, communication, professional recognition, legislative advocacy and cooperation with other government organizations.
Elected Montgomery County Trustee in 2006, Radford has more than 23 years experience in Montgomery County Government as senior deputy trustee, two terms as District 2 County Commissioner and County Trustee.
The Montgomery County Trustee's Office support four core functions: County Property Tax Billing and Collections (including Tax Relief and Tax Freeze), Banking and Investments, Forecasting Revenue, and Accounting and Reporting.
Among her many professional and civic memberships, Radford is a member of 2001 Leadership Clarksville; National Association of County Collectors, Treasurers and Finance Officers; Tennessee Government Finance Officers Association; County Officials Association of Tennessee (COAT); Tennessee Trustees Association, Tennessee Rehabilitation Center Board of Directors; Big Brother/Big Sisters Board of Directors; United Way Cumberland Society; Clarksville Area Chamber of Commerce; Association of the United States Army; Austin Peay State University Tower Club; Montgomery County Historical Society; Clarksville Downtown Civitan and Hilldale Baptist Church.