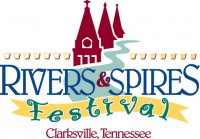 It is spring time again, and April is upon us. That means one thing, Rivers and Spires is just around the corner! The free three day festival will be held on April 15th-17th. It brings people from across the country to Historic Downtown Clarksville to enjoy some of the best entertainment, unique arts & crafts, and the distinctive culture our city has to offer.
The festival this year promises to be bigger and better than ever! With many new events, big name performers, and three days of non-stop fun, there is something for everyone!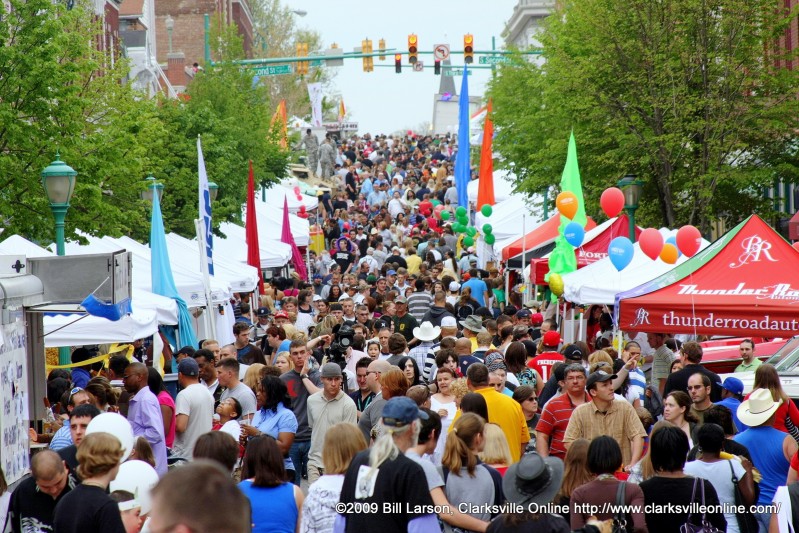 Some of the many events going on during this year's festival include Artz Galore, Children's Parade, Clarksville's Got Talent, Corvettes of the Cumberland, Dino & Vino, Doughboy Campaign, Eagleoke from Eagle 94.3, Foods of the Festival, Get DOWNtown, Green Zone, International Area, the International House of Brews, Jazz N Wine, the Kidz Zone, Last Band Standing, Rivers and Spires Marketplace, Mascot Mania, Memory Lane Cruisers, Patchwork Premiere, Quilts of the Cumberland, Road Rider's Underground Zone, Songwriter's Showcase, Teen Area, The Next Great Songwriters Showcase, the Urban Quest contest, US Bank's Art Exhibition, and the Youth Talent Show.
Limited seating is available around the event. Festival-goers are urged to bring their own folding or camping chairs. It is also recommended that attendees buy their food and drink tickets early to avoid long lines. Tickets for food and beverages will go on sale at eight different booths throughout downtown when the festival opens, food vendors will not accept cash. Recycle bins will also be placed throughout the festival.
The festival will take place rain or shine. Festival hours are:
Thursday, April 15th from 4:00 pm – 10:00 pm
Friday, April 16th from 5:00 pm – 11:00 pm
Saturday, April 17th from 10:00 am – 11:00 pm
Road Closures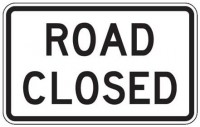 Road closures for this week have been announced for the 8th Annual Rivers & Spires Festival in downtown Clarksville. The following streets will be closed:
Wednesday, April 14th
Public Square in front of F&M Bank
Thursday, April 15th
Strawberry Alley
Franklin Street from First Street to Public Square
Hiter Street from Madison to Commerce
Commerce Street from Hiter to Third
First Street from Franklin Street to Main Street
Friday, April 16th
All of Hiter Street
All of Legion Street/Strawberry Alley
Franklin Street from First Street to Sixth Street
Commerce Street from Second Street to Fifth Street
First Street from Commerce to Main
Second Street from Commerce to Main
Third Street from Madison to Main
The streets will be closed until Sunday morning, April 18th, at 7:00 am.
Handicapped parking is available in the parking garage off Commerce Street in front of the Montgomery County Sheriff's Department on the first level. It is accessible from Riverside Drive.
Big names headlining this year's entertainment
Thursday, April 15th
The Public Square Stage will feature John Flanagan and Randy Nations during prime time on Thursday, April 15th. John Flanagan is a Boston-born, Nashville-based 22-year-old performer who has spent the majority of his career perfecting the thrill of his dynamic stage presence. Flanagan moved to Nashville in 2005 and immediately began playing to audiences of 1200 as lead vocalist of rock outfit, The Gilly. Flanagan left The Gilly in pursuit of corporate gigs, and has played venues from Georgia, Texas, and Oklahoma to Seaside, Oregon. Currently in production, his 6-song EP is due for release in 2010.
Randy Nations is a Nashville singer, guitar-player and songwriter who headlines regularly at popular Music City honky-tonk The Stage. A veteran rock-n-roller, he leads an excellent band of some of Nashville's most amazing musicians through a smoking set of classic rock-n-roll songs. Randy has performed with several top singers including Toby Keith, Billy Ray Cyrus, Mark Collie and Mark Chestnut.
Friday, April 16th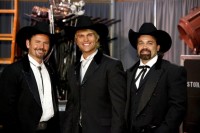 Singing sensation The Texas Tenors will be performing Friday night at the festival. The Texas trio was among the top 40 acts on Season 4 of "America's Got Talent." The acappella group made it to the quarterfinals of the NBC talent competition series in September. Doug Barber, Rivers & Spires Festival Director, says he saw the group perform on television and knew their mix of country and classical music was a perfect fit for festival.
Top Christian acts Chris & Conrad and Big Daddy Weave also be taking the stage that evening. Chris and Conrad is a contemporary Christian music duo from Lakeland, Florida, consisting of Chris Kuti and Conrad Johnson. Their debut single "Lead Me to the Cross" reached #3 on Billboard magazine's top Christian Songs chart. It was their first #1 song on the Christian Radio Weekly Inspirational Chart, as well as the #1 song on the Billboard Soft AC/Inspirational Chart in 2009. Influenced by Jars of Clay, David Crowder and Lifehouse, Chris and Conrad also pull from the ranks of yesterday's mainstream hit makers such as Chicago, The Police and U2.
Saturday, April 17th
The Charlie Daniels Band will be the featured headliner at the 2010 Rivers and Spires Festival. Daniels and his band will take the stage as the main event on Saturday night, April 17th. The concert is free and open to the public.
Daniels is known for his eclectic mix of country and southern rock. The singer, guitarist and fiddler was inducted into the Grand Ole Opry in 2008 and was recently inducted into the Musicians Hall of Fame. The band is well known for their support of American troops and has performed for soldiers at more than 300 shows domestic and abroad.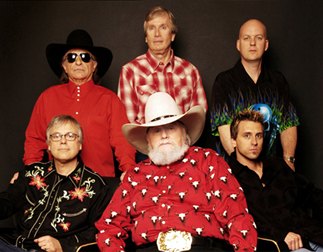 Jimmy Hall and the Prisoners of Love will also be performing on Saturday night. Jimmy Hall, former lead vocalist and harmonica player for Wet Willie, has a long and varied background as a performer, working with Capricorn Records from its early days in the 1970s. Born and raised in Mobile, Alabama, Hall co-founded Wet Willie in 1970. Over the next ten years, Hall and the group toured with Areosmith, the Allman Brothers Band, Grand Funk Railroad and the Grateful Dead. Hall was later nominated for a Grammy Award for Best Male Rock Vocalist for Jeff Beck's 1985 Flash album. After Wet Willie's breakup, Hall moved to Nashville, finding a healthy blues scene in a city known for country music. Hall worked as bandleader, vocalist, saxophonist and harmonica player for Hank Williams, Jr. He has numerous television performances under his belt including American Bandstand, Solid Gold, CMT special Crossroads, CMA Music Fest and The Jeff Foxworthy Show.
The Virtual Army Experience (VAE) will be in the Kids Zone this year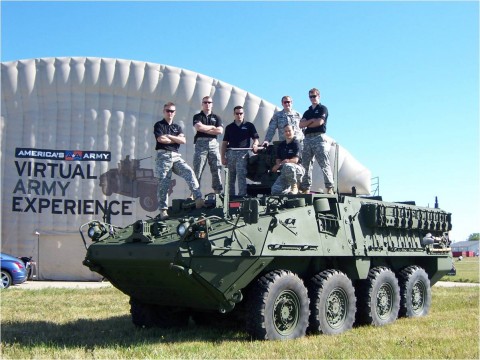 If you've ever wondered what it's like to be an Army soldier, fight in a combat mission or cross into enemy territory, then you need to check out the Virtual Army Experience (VAE) coming to the 2010 Rivers & Spires Festival. The VAE is like the America's Army computer game, and provides participants with a virtual test drive of the United States Army, with state-of-the-art Army training simulation technology to create a life-size virtual world.
The VAE highlights key Soldiers occupations, Army technologies, operating environments and missions, within a fast-paced, action-packed, information-rich experience. Participants employ teamwork, rules of engagement, leadership and high-tech equipment as they take part in a virtual U.S. Army mission. After a 'briefing,' participants enter the mission simulator where they cross into enemy territory and execute an operation. The experience takes approximately 30 minutes to complete.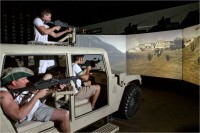 Visitors enter crew stations in one of six HMMWV simulators, similar to vehicles employed by Army Special Forces, and one of two full-size replicas of UH-60 Black Hawk Helicopters. Each HMMWV and Black Hawk simulator is surrounded by large screens providing a 180-degree battlefield upon which the virtual mission is displayed. HMMWV participants use replica M4 Rifles or M249 SAW's (Squad Automatic Weapons) that are wired to laser engagement systems similar to existing computerized marksmanship trainers. Other participants enter UH-60 Black Hawk helicopters where they use light arms and provide air coverage against enemy forces.
Holding the Guinness World Record for "Largest Traveling Game Simulator," the VAE is 9,750 square feet and is covered by an inflatable dome that weighs over 2,700 pounds. It houses more than 35 flat screens, more than 2.5 miles of data cable, and requires more than 35 computers to run. The massive game has the equivalent computing power of an Army Stryker Battalion.
"We're very excited to have the VAE at Rivers & Spires," said festival director Doug Barber. "It's hard to describe the enormity of the game. It will be one of the largest mobile units that we have placed on our streets and will definitely add an element of pizzazz that we haven't seen before."
Colonel Casey Wardynski is the originator of the Army Game Project. He said he "envisioned using computer game technology to provide the public a virtual soldier experience that was engaging, informative and entertaining." In response to criticism about the authenticity of the experience, Col. Wardynski compares the VAE to other Army branding efforts, "There is only so much the Virtual Army Experience can do to depict Army life, and it does a better job than a 30-second commercial."
The Virtual Army Experience will be located on the corner of Hiter and Commerce Streets across from the Kidz Zone.
River Queen and Teen Pageant Winners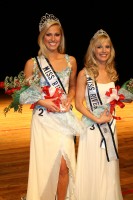 This year's pageant was held Saturday, March 27th, 2010 in Clement Auditorium on the campus of Austin Peay State University.
Kyndal Hayes of Germantown has been named Miss River Queen 2010, while Clarksville's Katie Kennedy will reign as the new Miss River Teen.
The pair will reign over the Rivers & Spires Festival in downtown Clarksville, making numerous appearances, signing autographs and participating in festival events. In October, they will also advance to the Miss Tennessee USA or Teen USA pageants, which are part of The Miss Universe Organization.
Contestants competed in three phases: swimsuit, evening gown and private interview. In the Miss River Teen pageant, Sarah Gross was named first runner-up, and Brittney Burress received second runner-up. For Miss River Queen, first runner-up was Brittany McGinnis, and Giselle Fontenot was second runner-up. The contestants voted Katie Neely Miss Congeniality. Taylor Oliver and Brittany McGinnis were awarded Most Photogenic. Also competing were Jessica Borunda, Brittney Clark, Samantha Maselli, Taylor Oliver, Harley Rose, Carlee Smith, Madison Snipes and Amanda Tivoli.
They will be escorted during the festival by the winners of the Better Opportunities for Single Soldiers (BOSS) Paegent held at Fort Campbell.
B.O.S.S is a program that supports the overall quality of life for single Soldiers. BOSS identifies well-being issues and concerns by recommending improvements through the chain of command. BOSS encourages and assists single Soldiers in identifying and planning for recreational and leisure activities. Additionally, BOSS provides single Soldiers the opportunity to participate in and contribute to their respective communities. Motivated single Soldiers with strong senior Military and MWR guidance are the backbone of the BOSS Program.
New Event for Seniors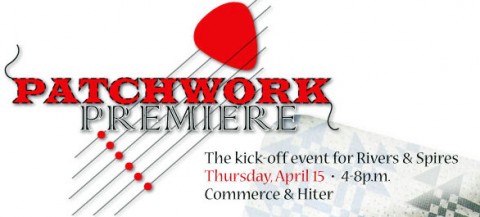 The Rivers & Spires Festival is launching a new event this year tailored especially for senior adults. "Patchwork Premiere," sponsored by Planters Bank, will be held April 15th from 4:00 pm – 8:00 pm at the intersection of Hiter and Commerce Streets.
In addition to the "Quilts on the Cumberland" exhibit at the Madison Street United Methodist Church, the evening will include refreshments at the bank from 4:00 pm – 5:00 pm, staged entertainment, dancing with a big band, make-and-take crafts, and a quilt giveaway, along with various other booths and games.
Country music variety band South Paw will kick off the staged entertainment at 4:00 pm. Next up is Memories of Patsy Cline featuring vocalist Lori Stegner. The show incorporates many of Cline's greatest hits into the story of her life. At 6:30 pm, the Cumberland Winds Big Band will take the stage. These 20 local musicians combine their exceptional talents to perform timeless classics from Count Basic, Duke Ellington, Glen Miller and more.
Local quilter Susan Schaaf has pieced a "Goose in the Pond" quilt that the bank will give away that evening. It will be displayed at the Planters Bank Commerce Street office between April 8th-15th.
Rivers and Spires is Going Green
Clarksville's Rivers & Spires Festival is going green this year. The festival will be encouraging attendees to recycle their plastic, aluminum, glass and cardboard. There will be two recycling bins for every one trash can. "We're excited to bring this new environmental initiative to Rivers & Spires. With over 35,000 people attending the event last year, such an effort can divert huge amounts of waste from ending up in landfills," said Doug Barber, festival director. Waste Management and Bi-County Solid Waste Management are partnering in the recycling effort, and local Boy Scout troops are also assisting.
The Green Zone was created at last year's festival and will be back in 2010. Booths in the Green Zone will offer information on sustainable living, renewable resources and green products. Activities are centered around families and children, and how everyday life can be changed to make greener choices. Last year, participants made a bird feeder with a stale bagel. Interest in the Green Zone has increased dramatically and current participants include Mission Clarksville, Habitat ReStore, TVA, CDE, Austin Peay State University Green Campus Committee, C&L Recycling, Montgomery County Stormwater, Red River Watershed Association, The Harvest Network, and Recycle Clarksville.
The Green Zone is hosted by Creation Care, a community group of Madison Street United Methodist Church.
International House of Brews
The International House of Brews is pouring into downtown Clarksville this week with the Rivers & Spires Festival. The new event will feature twenty beers from across the world. Participants can pay $10 for twelve samples of beer. Multiple tickets can be purchased for samples, and full glasses will also be available for purchase. Any age may enter the beer area, but participants must be 21 or older, have a ticket and current photo ID to sample.
Sponsored by the House of Brews and Coors Light, the beer event will be located at Third and Main in the International Area. Featured beers include Heineken, Dos Equis, New Castle, Beck's, Stella Artois, Bass, Sam Adams, Sam Adams Summer Ale, Twisted Tea, Guinness, Harp, Red Stripe, Blue Moon, Molson, Peroni, Pilsner Urquell, Abita Purple Haze, Sierra Nevada, Yazoo Dos Perros, and Paulaner Hefeweizen.
"We're thrilled to have the new international beer event at this year's festival," said Doug Barber, Festival Director. "Our Jazz n' Wine area has been immensely popular over the years, and now we're able to offer two great events for people with different tastes."
Schedule
Click here to view the entire schedule for the 2010 Rivers and Spires Festival
So as you can see, this is an event not to be missed! We hope to see you there!