On a scorching hot June afternoon, Dr. Christos Frentzos, Austin Peay State University assistant professor of history, stood in a small courtyard, talking with a rather charming stranger.
The gentleman, whose smile put his listener at ease, discussed American history and the Revolutionary War. He was extremely well versed in these subjects, and, aside from the summer heat, the encounter proved to be enjoyable.
That courtyard, however, was in the middle of an Israeli maximum-security prison. The charming stranger, Frentzos later learned, was a member of Hamas and the mastermind of a suicide bombing that killed 15 people and wounded 130 in a pizzeria in Jerusalem. Pictures of the carnage from that day in 2001, including bloodstained children's high chairs, didn't correspond with the well-groomed, polite man Frentzos met.
"It was just really weird because they don't look like monsters," Frentzos said. "They look like just very nice, average regular guys. They smile a lot. It wasn't what you'd expect."
Frentzos visited Israel for 10 days in June as part of a counterterrorism fellowship, sponsored by the Foundation for the Defense of Democracies. The non-partisan policy organization brings academics and professors from the United States to Israel for an up-close view of how a democracy confronts terrorism on an almost daily basis.
"Israel is surrounded by a lot of enemies that are constantly trying to attack them," Frentzos said. "This organization wants to better educate the academic community about the problems and threats Israel is currently facing. They want to try and show professors up close and personal what they're doing, how they're combating terrorism."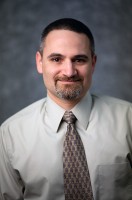 That's how the APSU professor found himself in a prison courtyard that June afternoon, talking to a convicted terrorist. But in spite of the prisoner's calm, pleasant demeanor, Frentzos did note something suspicious in the way he talked so knowingly about American history.
"As a history professor, one of the things that struck me is I can tell that they've been coached on what to say – not by the Israelis, but by people within their terrorist organization. In other words, they know how to try to appeal to American sympathies."
When asked why he orchestrated suicide bombings, the convicted terrorist said he was merely fighting for his independence, the same way the Americans did in the 18th century.
"He said, 'We're doing the same thing you all did against the British and King George III,'" Frentzos said. "He said 'King George III.' I told somebody, my college students sometimes don't know who King George the III is. And he mentions Concord and Lexington. I doubt they get that in the average school over there. They're very smart in that they know how to work western sympathies."
During the 10-day fellowship, Frentzos also attended lectures by Israeli Defense officials, and he visited an undercover police unit in an undisclosed location. He watched officers conduct a live ammo demonstration and learned how the Israelis prefer coercion to torture in gathering information. Also on display was a simulated operation in which undercover officers would infiltrate an Arab neighborhood and then snatch-and-grab a suspected terrorist.
"They told us that we were seeing things that most Israelis would never see," he said.
The information proved extremely beneficial to Frentzos. At APSU, he teaches courses on special operations and unconventional warfare as part of the University's Master of Arts in military history program. The fellowship allowed him to watch Israeli special operations units conduct training operations near the Lebanese border.
"This fellowship provided a fantastic opportunity for me to really get my feet wet and learn first hand what a democracy, Israel, is doing to combat terrorism," he said. "When you're a democracy there's a very difficult path to try and go after people who are using insurgency and terrorism. They don't play by the rules, yet as a democracy that follows the rule of law, you are expected to follow these rules. It's very difficult."
That difficulty became apparent early into Frentzos' trip, when an international crisis erupted near Israel's Port of Ashdod. Early one morning, Israeli commandos boarded an aid flotilla filled with pro-Palestinian activists. They were attempting to breach Israel's blockade of the Gaza Strip. In the confusion of that morning, nine activists were killed and six Israeli soldiers were wounded.
"We were there watching BBC news and CNN news, and you could see it was very slanted coverage," Frentzos said. "All you hear about is how the Israelis have this illegal blockade. They don't really put it in this larger context that Hamas, which is this terrorist organization, is now in charge of Gaza, and they've been using their position to launch rocket attacks into Israeli settlements across the border."
Frentzos is now back in the relatively calm atmosphere of middle Tennessee, but he's going over his notes from the fellowship and what he witnessed during the flotilla crisis to incorporate what he learned into his teaching this fall at APSU.
For more information on the counterterrorism fellowship, or to get a local perspective on the Israeli flotilla incident or other issues regarding that country's counter-terrorism efforts, contact Frentzos at 931-221-7945 or .