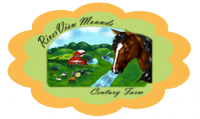 Congratulations to Chris Rhinehart and Scarlett Mulligan of Montgomery County, owners of RiverView Mounds Farm (www.riverviewmoundsfarm.com/) who are the winners of the 2010 Tennessee Small Farmer of the Year in the Alternative Enterprises for the estimated gross farm income of less than $50,000 category and the 2010 Tennessee Small Farmer of the Year award.  It has been a great honor to work with Chris and Scarlett during the past few years and they are very well deserving of this award!
They will be recognized at the 2010 Tennessee Small Farm EXPO and Small Farmer Recognition Program on July 15th, 2010.  Note that this will be held at the Otis Floyd Nursery Research Center located at 472 Cadillac Lane McMinnville, TN rather than at the farm in Cheatham county.  See the announcement below for more information.
TSU will be offering transportation leaving at 7:30am in the front of the Ag building (3500 John Merritt Drive, Nashville) on July 15th but you must register!
Contact Information:
Fitzroy Bullock, Ph.D.
Professor of Small Farms and IPM
School of Agriculture and Consumer Sciences
Tennessee State University
615-963-1561