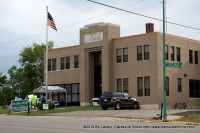 Fifty plus people gathered on lawn in front of the Old Coca Cola Bottling plant (330 North Second Street) as Mayoral Candidate Kim McMillan opened her Campaign headquarters there on Tuesday afternoon.  The opening brought people together to socialize, meet the candidate, and to pick up yard signs. The event was kept informal with the candidate circulating through the crowd meeting with and talking the issues with attendees.
McMillan had initiated a campaign for Tennessee Governor, but made the decision to withdraw and instead enter the race for Clarksville City Mayor when current Mayor Johnny Piper announced he would not seek re-election in March 2010.
She has vowed to do whatever it takes to win the race, calling it vital for the future of our city. "I believe in Clarksville, and want our city to get the recognition that it deserves." McMillan said. She also promised that "I will be the best Mayor Clarksville has ever had," then noticing former Clarksville Mayor Ted Crozier Sr., she quipped "Well except for Ted!" to which the crowd roared in laughter.
Currently McMillan  is considered the front runner, and has reported having over $31,308.15 in campaign cash on hand.
You can find out more about Kim McMillan at her web site, and you can follow her on  Facebook. Twitter, and Flickr. You can contact the campaign in person at her office, or via telephone at (931) 553-8762.
About Kim McMillan
Kim McMillan was the first woman to be elected Majority Leader of the Tennessee State House of Representatives; where she served for twelve years representing the 67th Legislative District.
During her political career McMillan received numerous awards from various civic organizations including Tennessee Chiefs of Police, the Tennessee Education Association, the Tennessee School Boards Association, the Tennessee Chapter of the American Association of Pediatrics, the Tennessee Press Association, the County Officials Association of Tennessee, and the Tennessee Hospital Association. She has also been named the recipient of the US Chambers of Commerce's Athena Award, which is the highest honor for women in business.
After leaving the Tennessee legislature she became a Senior Advisor to Governor Phil Bredesen, and in 2008 she Kim began working as the Executive Director of Community and Business Relations for Austin Peay State University where she serves as a faculty member in the Political Science Department. She also serves on the Tim Hall's President's Cabinet, an advisory council created to address matters that significantly affects the University.
In her non-political life, McMillan was a founding member of Leadership Middle Tennessee, the chairman of Cumberland Bank & Trust, A board member with the Monroe Carell, Jr. Children's Hospital at Vanderbilt. She practiced law with Boult, Cummings, Conners & Berry, PLC in Nashville; Cunningham, Mitchell, Hicks & McMillan, in Clarksville; and founded the firm McMillan & McMillan with her husband.
Kim and her husband Larry, a native Clarksvillian, have been married for over 20 years. They have two children Katie and Ryan.
Photo Gallery
Editor's Note: Kim McMillan's biography includes material provided by Kim McMillan's Campaign web site, and the English Language Wikipedia.