Austin Peay State University's football team will kick off a busy day of activity, 9:00am, Saturday, when the Govs hold their final scrimmage in Governors Stadium.
The scrimmage will be followed later in the day by football media day, 1:30 p.m. and then Fan Day, 3:00pm, in Governors Stadium. The scrimmage will be APSU's last of the summer camp.
"We will keep it (scrimmage) pretty short," APSU coach Rick Christophel said. "We want to work on some things and look at some people, but at the same time we want to make sure we come out of this as healthy as we can.
"We have some guys banged up right now. We don't know how many of them will play on Saturday. After Saturday, then we will start getting ready for Cumberland."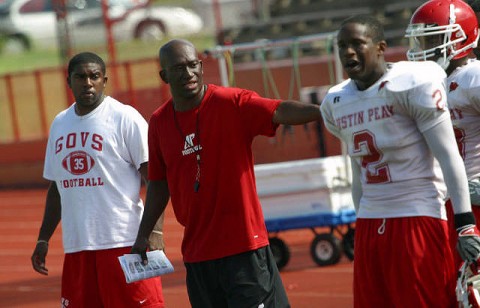 Christophel hopes to go with three to four series for both his first-string offense and first-string defense, somewhere in the 14-play range for each.
"Then we will get a look again at some of our younger kids," Christophel said. "We also will spend time on the kicking game."
What the head coach has seen this week is the offense's continued evolvement, coinciding with improved production of second-year quarterback Jake Ryan.
"Jake is maturing," Christophel said. "Each day he is getting a better feel for what we are trying to do. He worked hard in the offseason and because of that his arm strength is better. He is doing good job right now of putting the ball where it needs to be."
An improved passing game could help take off some pressure from APSU's running game, led by All-Ohio Valley Conference running backs Ryan White and Terrence Holt.
Defensively, meanwhile, the focus is on a young secondary that will see three new starters in place at the two cornerback spots and one of the safety positions. Only junior weak safety Amius Smith and sophomore strong safety Jeremy Ross are back as starters.