If the heat breaks and you decide to clean out a closet or a garage or really work on serious fall cleaning, here are a couple of items the Adult Literacy Council could use:
Plastic containers with lids (large storage size) Baskets (we make gift baskets for door prizes at various events & storage)
Magazine rack(s)
BOOKS – dictionaries, paperbacks, English grammar books, cookbooks even children?s books (3rd grade level and older)
Think of them before you toss any of these items or if you are planning a yard sale. We can accept donations Monday through Thursday 9:00 a.m. – 1:00 p.m. through the months of August and September. They will be glad to provide you with a donation letter for tax purposes. To make a donation contact the Adult Literacy Council at
About the Adult Literacy Council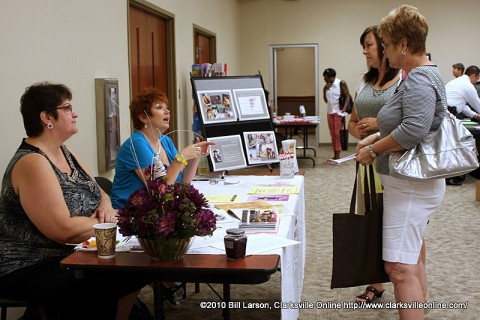 The Clarksville-Montgomery County Adult Literacy Council provides free one-on-one instruction for adults who want to learn to read or improve their reading skills in the Clarksville-Montgomery County / Ft. Campbell area.
The Clarksville-Montgomery County Adult Literacy Council was established in 1985 to promote public awareness of the need for literacy education in the area.
The Adult Literacy Council recruits and trains tutors interested in teaching adults with low reading and computation skills or students who have a need to learn English as a second language. The Adult Literacy Council works in cooperation with other literacy projects and seeks to obtain and allocate funds for local literacy programs. A major function of Adult Literacy Council is to support the Adult Education Program by providing free one-on-one tutoring for Adult Education students who need special assistance.
The Literacy Council has two part time (20 hours per week) employees: the director (Velma Jo Williams) and the office assistant (Carol Davis). The office is open from 9 to 4 Monday through Friday.