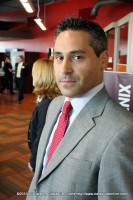 The University of Phoenix has targeted non-traditional students in Clarksville for quite some time with their well-known online curriculum, now they are seeking to provide a more personal touch by opening their newest campus in Clarksville, TN with an Official Ribbon Cutting by the Clarksville Area Chamber of Commerce.
"Our students are different from those in traditional colleges." said Campus Director Mark Mendoza, "Many of our them can't go to school from 8am-5pm Monday through Friday, they are working adults with responsibilities outside the classroom." That is something that the University of Phoenix recognizes and strives to accommodate.
Another difference with the University of Phoenix is the fact that they enroll students each month, allowing their students to begin their academic career at the time best suited for individual situation. Each student is also given dedicated enrollment, academic, and financial advisers that work with them from enrollment, all the way through graduation.
Mendoza said "We are trying to supplement other educational options available here in Clarksville. There are over 132 million adults in our nations workforce, of those 80 million do not have a degree, and there are 50 million who have not attended any college at all."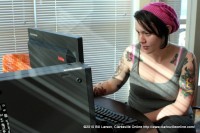 Their educational philosophy takes a lot from the workforce and brings it into the classroom. For example a lot of the education is done via learning teams, group of students who learn together. Students have the option to come in and work independently, or they can choose to work together in small groups.
The University of Phoenix Campus features a student resource center, five learning team rooms that groups of students can meet in, four traditional classrooms for holding both daytime and evening classes. "The University of Phoenix is focused on technology" Mendoza said, and they proudly claim they have some of the best learning technology around.
The building is located in Chesapeake Commons, a new development out near Gateway Hospital, which was built by The Innovations Group, LLC out of Franklin, TN. The University of Phoenix selected this as the location of their new campus because, "The Hospital area is conveniently located, and it is one of the most vibrant, and fastest growing areas in Clarksville."
They first started offering classes in Clarksville in July.
Enrolling
If you are interested in enrolling in the University of Phoenix, call them at their toll free main number (
(866) 766-0766, or visit their web site. The site provides extensive information on the location of their campuses, and the curriculum offered at each one. Not all programs are offered at all of their campus, and the available selections may change over time.
Photo Gallery