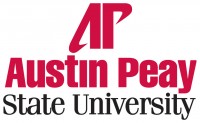 Clarksville, TN – Saturday, September 11th, turned out to be a busy day for the Austin Peay State University Department of History as professors and students engaged in academic and philanthropic activities throughout middle Tennessee.
That morning, Dr. David Nelson, assistant professor of history, took a group of Phi Alpha Theta History Honor Society and History Club students across town to the Mount Olive Cemetery, where they spent several hours cleaning out debris and helping restore the neglected historic site
"This is historical preservation. This is what we do," Nelson said last spring. "This kind of service project fits in perfectly with our organization."
The cemetery is the final resting place for some 1,300 of Clarksville's African-American citizens, including Civil War and World War II veterans.
While Nelson and his students sweated and got their hands dirty working outside, another group from the University's history department headed to Cumberland University in Lebanon for the annual Tennessee Conference of Historians.
Dr. Minoa Uffelman, assistant professor of history, moderated the event's students' session, while Dr. David Snyder, assistant professor of history, presented a paper, "The Allied Strategic Bombing Campaign and AWOL German Soldiers in Luftgau XII, 1943-1945." Dr. C. Alvin Hughes, professor of history, also attended the conference.
Four students presented at this year's conference, and all four were from APSU. Those students and their papers are:
Jennifer Montgomery, "Consulting the Delphic Oracle"
Deanna Carter, "Controversies on the Parthenon East Frieze"
Michael Ramsey, "'With Murder on their Minds:  The Foundations of an American Identity:  Violence, Hatred and Othering on the 18th Century Frontier"
David Britton, "The Tennessee Valley Corridor: Imperial contestation in the Old Southwest, 1690-1763." 
For more information on the conference, contact Uffelman at 931-221-7704 or .