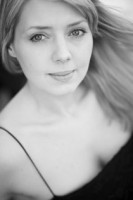 Television and the Internet have spoiled music lovers to hearing the best voices and instrumentalists in the world, but no electronic event can surpass hearing superb musicians live in concert. Saturday afternoon music lovers were treated to a recital by Clarksville native Melissa Shippen Burrows, soprano, and Jennifer McGuire, pianist, in the beautiful and historic sanctuary of First Presbyterian Church of Clarksville.
Ms. Burrows has an impressive resume. With both Bachelor and Master of Music degrees from The Julliard School, she has won first prize in the Viotti International Vocal Competition in Munich. She made her debut with Vesselina Kasarova on the 2008 RCA recording Belle Nuit. Later that year she made her Asian debut with the Hong Kong Philharmonic singing Gorecki's Symphony No. 3 Sorrowful Songs.
In 2009 she was Metropolitan Opera National Council Auditions District Winner and Regional Finalist, was a winner at the Palm Beach Opera Competition, and was named first prize winner at the Orpheus National Vocal Competition.
Daughter of First Presbyterian organist, Carolyn Shippen, Ms. Burrows made her Carnegie Hall debut in 2001 as the soprano in Mahler's Symphony No. 2 Resurrection and again sang in Carnegie Hall in 2003 in Britten's War Requiem. She won the American Berlin Opera Foundation Scholarship in 2005 and was contracted with the Deutsche Oper Berlin the following season.
Named a United States Presidential Scholar in the Arts, she sang in concert before U. S. President Bill Clinton at the Kennedy Center. She has also performed with the Palm Beach Opera, Wolf-Trap Opera, Aspen Opera Theater and The Juilliard Opera Center.
Pianist Jennifer McGuire received her bachelor's degree from Shorter College in Rome, Georgia. She completed a double master's degree in piano performance and vocal accompanying at the University of Cincinnati's College-Conservatory of Music.
In 2000, Ms. McGuire was a national finalist in the MTNA Collegiate Piano Competition. Now the Senior Lecturer in Collaborative Piano at Vanderbilt University, she served from 2006 to 2007 as a faculty member of Georgia College and State University.
With professional engagements with Nashville Opera, Cincinnati Opera, Dayton Opera and Rising Star Audition Works, she currently serves as an accompanist for the Metropolitan Opera National Council auditions. Working with composer John Corigliano and conductor Leonard Slatkin, Ms. McGuire played for the Nashville Symphony from 2007 through 2009. She joined the staff of the AIMS festival in Graz, Austria in 2008.
The concert presented Saturday encompassed music in German, Italian, French, Russian, and English. Each selection was carefully chosen to present the brilliance of Ms. Burrows' rich high notes to their best advantage. The marvelous acoustics of the church hall resonated the beauty of her voice. Ms. McGuire's perfect accompaniment gave the soprano a solid palate on which to encompass a wide range of emotions.
Compositions presented included Strauss's Zueignung ("Dedication"), Allerseelen ("All Souls' Day"), and Caecilie ("Cecilia"); Debussy's "Romance" and Beau Soir ("Beautiful Evening"); Gounod's O Dieu!…Ah, Je ris ("The Jewel Song" from Faust); Puccini's O mio babbino caro (Lauretta's aria from Gianni Schicchi) and Quando m'en vo (Musetta's aria from La Boheme); Rachmaninov's "Dreams" and "Spring Waters"; and hymns and spirituals, "Wade in the Water," "Give Me Jesus," and "His Eye Is on the Sparrow."
Attired in a deep purple strapless silk floor-length gown, Ms. Barrows ended her recital with a loving tribute to her grandmother by singing the hymn, "Steal Away."
It is rare to attend a free concert in middle Tennessee that features internationally acclaimed musicians of the quality of Ms. Barrows and Ms. McGuire. All music lovers in this area should be watchful for a future concert by either or both of these beautiful and talented young women. Their performance on Saturday afternoon was attended by about 300 guests who shall always remember how fortunate they were to witness this musical delight.
While the concerts they put on are not free, the Clarksville Community Concert Association brings in world class musicians to perform in Clarksville, TN. They have a concert coming up on October 1st featuring the world renown Ying Quartet. Tickets are $25 for adults, $12 for non-APSU  students with ID, and free for APSU students with ID. You can see the rest of their 2010-2011 schedule at their web site.