Written by U.S. Army Sgt. Scott Davis
Regional Command-East Public Affairs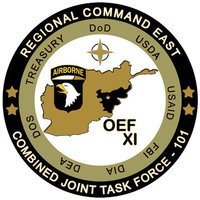 Bagram Airfield, Afghanistan – A ceremony was held at Bagram Airfield October 3rd, to recognize 121 servicemembers who supported the relief efforts after flooding in Pakistan in late July of this year.
Senior commanders and command sergeants major from Regional Command-East, International Security Assistance Forces and International Security Assistance Forces Joint Command awarded each servicemember the Humanitarian Service Medal for answering a troubled nation's call.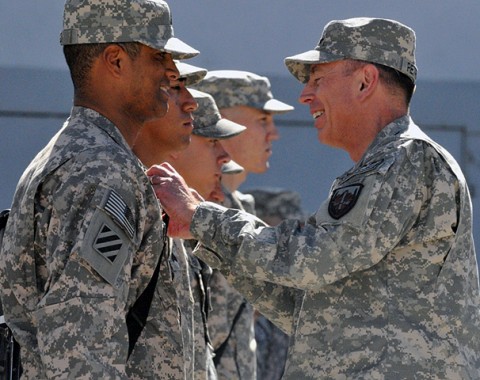 "We are about to do something we probably need to do more of and that is recognize those have gone above and beyond," U.S. Army General David Petraeus, commander of U.S. Forces in Afghanistan and of ISAF. "Today, we are going to recognize those who have done so in a humanitarian mission. We are honoring those in front of us for their hard work and selfless service to the Pakistani people as they faced one of the greatest natural disasters of recent history."
Petraeus said within days of the first signs of flooding, millions of people had lost their homes and millions more were affected by the raging waters that covered nearly a fifth of their country.
By some estimates, the floods affected more people than the 2004 Indian Ocean tsunami and the Haiti earthquake combined.
"One Pakistani official called it the worse ever calamity in his country's history," said Petraeus. "When that call came, the men and women before you answered the call."
The task force of servicemembers supported the ongoing efforts in Pakistan from July to September.
"I was part of the weather support for aviation assets, meaning we were forecasting the weather so the helicopters could navigate through the terrain safely and get supplies to people and conduct rescue missions," said U.S. Air Force Staff Sgt. Michael Broady, a Newnan, GA, native with the 19th Expeditionary Weather Squadron. "It feels great knowing we were able to help the Pakistani people and I'm honored to receive my medal."
"Thank you for your impressive work during a tough mission. Your efforts made a life-changing difference for thousands of families," said Petraeus. "And even though your role in the disaster relief is over, our country's is not. Our military will continue the effort you began and the rest of our government is making vital contributions to ensure that our long-term support for Pakistanis affected by the flood is as every bit as robust as your initial efforts."