APSU Women's Soccer

Clarksville, TN – Freshman Tatiana Ariza's chip-shot gamewinner gave Austin Peay State University women's soccer team a 1-0 Ohio Valley Conference win against Jacksonville State, Friday night, at Morgan Brothers Soccer Field.
Tatiana's goal came in the 89th minute with 45 seconds to play in regulation. After several tenacious attack sequences were thwarted by the JSU defense, Gamecock keeper Ali Koenig sent a punt into midfield. It was fielded by APSU's defense and pushed ahead to freshman Joceline Quiceno, who fed a cutting Tatiana Ariza for the gamewinner.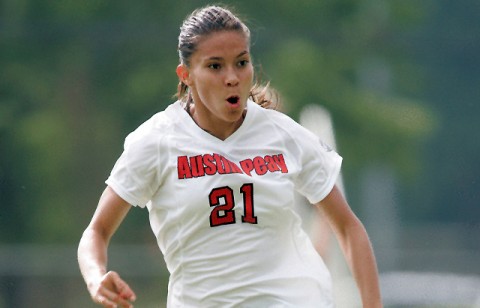 "It was a great finish for Tatiana," Lady Govs head coach Kelley Guth said. "She had a number of those opportunities throughout the night. She took the ball out of the air, got a good first touch, and just put it away."
Although the Lady Govs picked up the crucial OVC win, Guth was admittedly frustrated as the Lady Govs outshot Jacksonville State, 21-2. Time and time again, the Lady Govs forwards pushed the ball inside the attacking third only to fire shots wide of the goal or see the ball cleared out by a strong JSU defense.
"It was frustrating, but it was a fun game to watch," Guth said. "We have to keep building on being that team that goes after teams and the goals will come. It was hard not being able to execute the way we wanted to, but it was a great end to the game."
Tatiana Ariza led the Lady Govs with seven shots, including four on goal, while Quiceno also added five shots. The Lady Govs offensive threat is duly noted in the fact that they managed an 11-0 corner-kick advantage as well.
Hitting the 10-win plateau for the first time in program history was a fitting landmark, considering it also was Alumni Night at Morgan Brothers Soccer Field and a number of former Lady Govs players were on hand. It also gave the Lady Govs a much-needed boost in the OVC standings as they race for one of six spots in the postseason tournament.
It was Austin Peay's only game this weekend and with the rest of the league playing two weekend games, there is likely to be some shift in the standings.
"This was a huge win for us and so crucial at this time of the year," Guth said. "It's all about what we do from here on out and we're going to take it one game at a time. We're really excited and I'm really proud for our girls tonight."