Clarksville, TN – A husband and wife went to jail after a Detective's investigation unveiled that the couple filed a false report with Police.
On October 11th, 2010 around 5:12am, officers were called to 2395 Loupin Drive in response to a man being shot during a home invasion. Heather Jackson said that she was in the shower and a heard a "pop" and after exiting the bathroom, she saw an unknown male run out of the back door.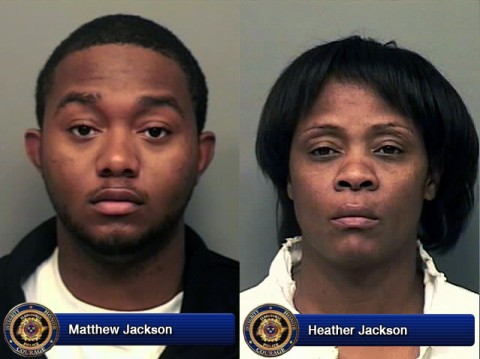 Matthew Jackson told Police he was laying down in the bedroom when he heard the front door open; he went to check it out. As he did, he saw an unknown male coming at him and a struggle ensued.  During the course of the struggle, Matthew Jackson indicated that he was shot in the left leg. Jackson said the man then let him go and ran out the back door.

After multiple interviews with Matthew Jackson and wasted man hours, Detective Mike Alexander determined that the gunshot was accidentally self-inflicted and the story was concocted by the Jacksons to cover up the circumstances from Matthew Jackson's military employer.

Heather Jackson (B/F, DOB: 11/30/68) and Matthew Jackson (B/M, DOB: 11/5/85) were both booked into the Montgomery County Jail for FALSE REPORT. Both had a bond of $5,000.
Sections
News
Topics
Bond, Clarksville Police Department, CPD, False Report, Loupin Drive, Mike Alexander, Montgomery County jail