Clarksville, TN – The Clarksville-Montgomery County Humane Society transformed the Riverview Inn Ballroom on Saturday evening into a ghoulish place, but one with an important purpose. It was to serve as the site of the 4th Annual Wags to Witches Fur Ball Bash. The fund raising event drew 150 people many of them in costume to help raise money to help fund the operations of the local chapter of the Humane Society for another year.
Nearly $14,000 was raised. $4045 of that was through the Mr & Miss Wags to Witches Pet Photo Contest. Nine companies sponsored tables for their employees and guests. "This event could not happen without the support of local businesses and individuals who donate services and / or items for our auctions, as well as donating in-kind services such as billboard and newspaper advertising and the free beer." said Humane Society President Stacey Hopwood.
Hopwood went on to thank all of the people who made the event possible, "The Wags to Witches Fur Ball Bash is the product of many, many hours spent by numerous volunteers who create and install the decorations, who solicit and organize auction items, who prepare and serve the food… The list goes on, and on behalf of the Humane Society, I cannot thank all of them enough."
Among those who were responsible for the evenings success were the American Culinary Federation of Clarksville, The Leaf Chronicle, The Riverview Inn, Budweiser of Clarksville, Pet People Blog, Budget Blinds, Gateway Luxury Limousines, Charter Communications, F&M Bank, Lamar Advertising, Planters Bank, Nationwide Insurance, Insurance USA, Photographer Tina Hartman, and DJ Scott Chase. That's not counting the many donors, attendees, volunteers, and pet photo contestants. "We attribute this success to all of you and are proud to be worthy of such support!" she said.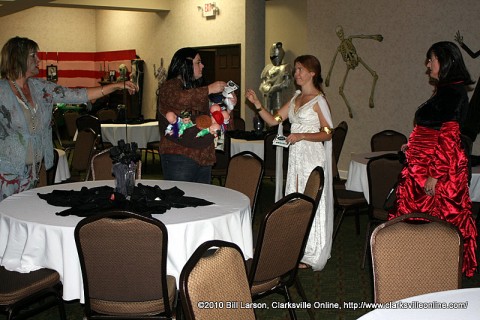 The winner of the costume contest for the evening was a "redneck housewife" who took a break from her Bon Bons to attend. Looks like her baby will need a diaper change when she finishes up with that cigarette.
The American Culinary Association of Clarksville (spearheaded by Wendell Hensley & George Hartman) served up some incredible food for the event, including Fondue fountains, crab cakes, pork riblets, pan-seared tuna & lots more kept anyone from leaving hungry! Budweiser of Clarksville provided free draft beer.
Clarksville cat lovers will be happy to hear that FINALLY… for the first time… a kitty has earned a spot on the cover of their calendar!  All of the top 10 pet photo finalists will be featured in our full color 2011 Humane Society Calendar, with Bogart and Emma gracing the cover, of course!  The rest of the calendar will be filled with photos of former Humane Society adoptables that have moved on to their forever homes, so if you (or someone you know) adopted a pet from us in the past, be sure to send in a photo or two for consideration in this or a future year's calendar!
| | |
| --- | --- |
| Bogart, the winner of the Mr. Wags Photo Contest | Emma, the winner of the Ms. Wags Photo Contest |
Calendars are expected to be available the first week of December. They make great Christmas gifts  and are another easy way to help raise money for needy pets in our community. Below is a peek at the 2010 calendar's pages.
The calendar is colorful, fun and a GREAT deal at just $12.00!
The money raised has helps the Humane Society to :
Provide a low-cost spay-neuter program that  has altered over 3,000 dogs and cats.
Distribute over 32,000 pounds of pet food and litter to low income families or rescue organizations in need.
Find homes or foster families for over 2,000 pets.
In 2009, we spent an average of $7,902 every month helping animals in need and assisting families with low-cost spay and neuter vouchers for their pets.
The Humane Society is dedicated to opening a high volume, low cost, spay neuter clinic, which is the only way to truly impact the euthanasia rates in this community. They are currently working hard to raise the necessary funds to cover our start-up costs, and events like Wags to Witches will help them reach that goal.
Photo Gallery
Photos from the 2010 Wags to Witches Fur Ball Bash