APSU Men's Basketball

West Lafayette, IN – No. 8/10 Purdue opened the second half on a 20-6 run to break open a close game as it defeated Austin Peay State University, 87-65, Tuesday night, in the second round of the Chicago Invitational Challenge.
The tourney now moves to Chicago and the Sears Centre Arena, where the Govs will play Charleston Southern, noon, Friday.
The loss was the Governors third straight and dropped APSU to 2-3 on the season. Purdue, meanwhile, improved to 4-0.
The opening of the second half actually continued a Purdue run that began right before halftime as Purdue, leading only 32-28, outscored the Govs 6-2 to close the half.
Then D.J. Byrd opened the second half by nailing a three pointer to give Purdue a double-digit lead for the first time at 41-30 and then, after a Govs miss, Terone Johnson hit another bucket to make it a 13-point game before APSU's Caleb Brown could respond.
But Purdue scored the next four points and Austin Peay would not get closer than 13 points the game's remainder. In fact, the Govs trailed 62-42 when the Govs went a little 10-3 run of their own to cut it to 13.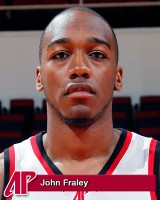 But turnovers and an in ability to prevent Purdue for second and sometimes third opportunities on the offensive end proved to lead to the Govs' undoing. In fact, the number 18 proved significant in the Govs loss. APSU committed 18 turnovers, leading to 18 Purdue points. APSU also permitted 18 offensive rebounds, permitting the Boilermakers 17 additional points.
The Govs also got a taste of Purdue's All-America duo of E'Twaun Moore (17 points, six rebounds) and JaJuan Johnson (21 points, 11 rebounds).
At times, the Governors played some of their season's best basketball, hanging with the Boilermakers for much of the first half as junior center John Fraley, with seven rebounds, battled JaJuan Johnson to keep the Govs even on the boards. In addition, guard Tyshwan Edmondson at times was nearly unstoppable, scoring 10 points on five-of-eight shooting.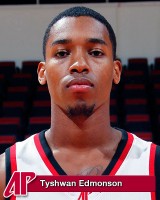 Edmondson, who battled leg cramps in the second half and sat for extended minutes, finished with 16 points. The Govs' overall leading scorer started for the first time as Josh Terry sat because of hip muscle injury.
Meanwhile, Fraley finished with his season's first double-double with 11 points and 13 rebounds.
The Governors (50.9 percent, 27 of 53 actually outshot Purdue (46.4 percent, 32 of 69), but Purdue committed half (nine) the number of turnovers the Governors did. The Boilermakers also made nine three pointers compared to just one (out of 10) for the Governors.