Written by U.S. Army 1st Lt. Nicholas Rasmussen
1st Battalion, 168th Infantry Regiment Public Affairs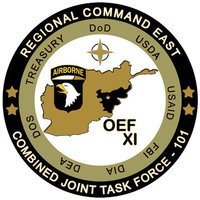 Paktya Province, Afghanistan – Maj. Gen. John Campbell, Combined Joint Task Force 101 and Regional Command East commander, visited Forward Operating Base Gardez to meet with Team Paktya's board of directors December 8th to discuss counterinsurgency operations in Paktya and the future of the provincial governance.
Campbell had two main points to impress upon Team Paktya, which includes 1st Battalion, 168th Infantry Regiment, Paktya Provincial Reconstruction Team, Oklahoma Agribusiness Development Team, U.S. Department of State, U.S. Department of Agriculture and the U.S. Agency for International Development.
His first point was to provide guidance for project focus.
"You're doing a lot of good things here," Campbell said after hearing plans to establish different programs in Paktya, such as organized sports and courses on agriculture at Paktya University.
Campbell said he has seen units in the past spread their efforts on too many projects, leading to an overwhelming amount of work for the units and resulting in unfinished projects.
Campbell's guidance to the members of Team Paktya was to pick a few projects with good potential and focus to fully develop them.
"This will be a more effective way to engage and help the local population in the long run," Campbell said.
The second point Campbell made to Team Paktya was to ensure the people in control of governance in Paktya are right for the job.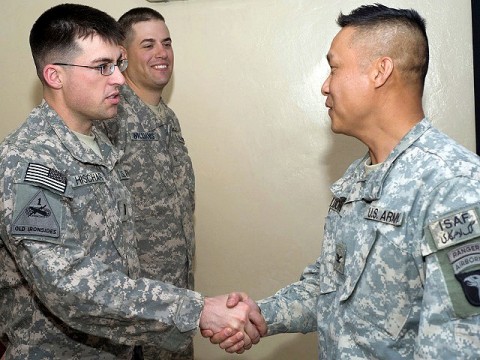 To do this, Campbell said Team Paktya needs to work as a cohesive group. Herve Thomas of German Town, MD, a member of USAID on Team Paktya, said the future of the team is bright.
"More importantly," said Thomas, "there is a good understanding of what each unit is doing … as demonstrated by the way the team comes together to solve issues."
Campbell offered the floor to the members of Team Paktya and listened as the members expressed what they feel needs to be done in the province to facilitate progress.
Team Paktya as a whole appreciated the opportunity to interact with Campbell and present their plans to help Paktya province progress toward a better way of life.
"It was a great opportunity for Maj. Gen. Campbell to come out and amplify his guidance to Team Paktya to stay on azimuth with the (CJTF-101) campaign plan," said U.S. Army Lt. Col Stephen Boesen, Task Force Lethal commander from Ankeny, Iowa.