APSU Men's Basketball

Richmond, KY – "Call him the streak" was a novelty tune about the "streaking fad" written by Ray Stevens back in 1974, a song that rose all the way to No. 1 on the charts.
For Austin Peay and Eastern Kentucky, Stevens could tweak his lyrics a bit to the tune of: "Call them the Streak busters."
Back on January 8th, Austin Peay entered CFSB Arena and defeated Murray State, 66-64, to snap the Racers 25-game home winning streak.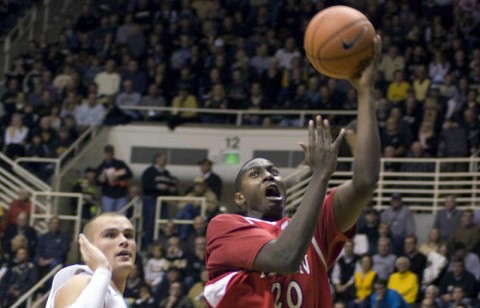 This past Saturday, Eastern Kentucky went to Ellis T. Johnson Arena and handed Morehead State a 59-49 defeat to end the Eagles' 24-game home winning streak.
In fact, EKU's win was its fifth-straight road victory. The Colonels have yet to lose on the road so far in 2011. The road streak includes Georgia Southern, Eastern Illinois, Southeast Missouri, SIU Edwardsville and Morehead State.
They are hardly the team the Govs dominated back in mid-December when APSU eased to a 78-51 victory.
One significant improvement has been the Colonels defense. During their current four-game winning streak, no team has scored more than 52 points. Morehead State was held to just 29.6 percent shooting against the Colonels and All-America candidate Kenneth Faried scored just six points while Demonte Harper finished with 13, but on 4-of-18 shooting.
In addition to the defense, the three-point shot has become more consistent in their arsenal. Of the Colonels' 17 field goals made against Morehead State, 11 were three pointers. They have attempted nearly 50 more three pointers than any other OVC team.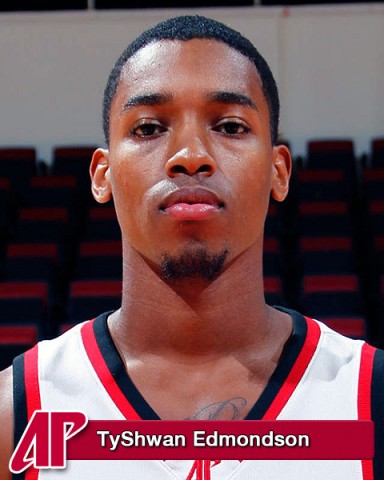 Three Colonels are averaging in double figures, led by forward Spencer Perrin (12 ppg), followed by guard Josh Daniel (11.9 ppg) and point guard Joshua Jones (10.8 ppg).
The Governors, meanwhile, snapped a two-game losing streak by downing Jacksonville State, 80-66, Saturday.
The Govs, who struggled offensively in their previous two games, shot an impressive 53.1 percent (26 of 49) from the floor. They also connected on 24 of 31 free throws (77.4 percent)–the free-throw line often has been unkind to the Govs this season.
OVC leading scorer TyShwan Edmondson scored 23 points in the game after knocking down 25 against Tennessee Tech. He was chosen OVC Player and Newcomer of the Week for his weekend performance.
The game tips off at 6:30pm, Thursday, at McBrayer Arena.
What You Should Know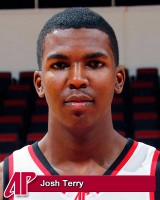 The Series: This is the 106th meeting between the two Ohio Valley Conference foes, Austin Peay and Eastern Kentucky, with the Govs holding a 58-47 advantage. The Govs have won the last two meetings, both in Clarksville, including a December 18th contest that saw APSU capture a 78-51 verdict. Four Govs scored in double figures, including 22 points by forward Josh Terry.
What A Win would Mean: The Govs would rise to six games above the .500 mark at 14-8 before facing Morehead State, Saturday night. It would give the Govs a twogame winning streak. It would make the Govs 8-2 in the OVC. It would give the Govs a 5-2 record in January. It would give the Govs a 7-5 road record. It would give the Govs a 5-1 OVC road record…it would snap EKU's four-game winning streak. It would give APSU a 59-47 overall lead in the series. It also would be Loos' 427th career college coaching win and 345th APSU victory, leaving his five shy of 350 league victories. It would improve Dave Loos to 10-4 all-time against EKU coach Jeff Neubauer.
What A Loss Would Mean: The Govs would drop back to four games above the .500 mark at 13-9. It would drop APSU to 7-3 in the OVC. It would be the Govs second straight OVC road loss. It would allow Eastern Kentucky to split the regular-season series. It would drop Dave Loos to 32-16 against the Colonels. It would be Loos' 338th all-time loss and 285th APSU defeat. It would allow EKU coach Jeff Neubauer to record is 99th EKU victory.
Defensive Breakdown: After limiting the opposition to less than 45 percent shooting in seven of eight recent games, the Governors have allowed the opponents to shoot 47.5 percent or better in the last three games, including 49.1 percent by Tennessee Tech and 50 percent (26 of 52) by Jacksonville State.
If There is A Will: Freshman forward Will Triggs came off the bench to lead the Governors in rebounding (12) over the weekend, including a team-high seven against Jacksonville State. The Edwardsville, IL, native played a career-high 24 minutes off the bench against Tennessee Tech, scoring eight points while grabbing five rebounds—all on the offensive glass. He also blocked two shots and collected two steals. Against Jacksonville State, he played 20 more minutes, scoring nine points, going seven-of-nine from the free-throw line, and snaring a team-high seven rebounds.
Turning Up The Turnover Heat: When Jacksonville State committed 21 turnovers against the Governors it was the third straight game and eighth time this season APSU has forced 20 or more turnovers. Opponents are averaging 22.7 turnovers per game over the last three contests.