APSU Men's Basketball

Cookeville, TN – After sitting on top of the Ohio Valley Conference standings since early December, Austin Peay now must concentrate on fixing "what ails it" while gaining a different perspective–a second place perspective–as it travels to Tennessee Tech, 7:00pm, Monday for its third league game in six days.
The Governors are coming off a disappointing 67-58 loss to Murray State in front of a packed Dunn Center. The Govs and Morehead State, now 9-4 in the OVC, sit behind the Racers, who are 9-3.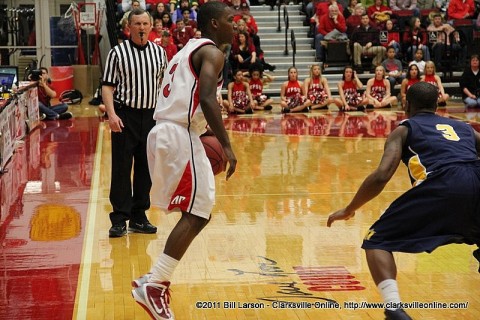 The Governors have little time for self pity as they will be facing a Tennessee Tech squad that has defeated it two straight times on last-second shots, including a 71-68 loss, January 20th, and three of the last four meetings.
The Govs, in fact, have struggled since opening the OVC season 6-0. They have lost four of the last seven games–all league games. APSU has shot 44.6 percent during that seven-game stretch. More importantly, they have connected on just 34 of 108 (31.5 percent) three-point attempts,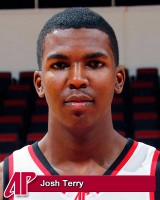 The Govs also are being out-rebounded by 2.7 rebounds per game. In fact, the Govs have won just one game–Jacksonville State–during that stretch where they were out-rebounded.
Josh Terry led the Governors againest Murray State with 17 points, going 8-of-11 from the floor while the freshman Will Triggs, making all six shot attempts, scored a career-high 15 points.
On Monday, they will be facing a Tennessee Tech team that hammered the Govs on the offensive boards in the previous contest. The Golden Eagles, in fact, are out-rebounding the opposition by 5.5 rebounds per game this season.
The Golden Eagles also are coming off a disappointing defeat, also losing at home Saturday. Morehead State limited the Golden Eagles to 38.5 percent shooting (25 of 65) on its way to a 76-60 victory. That snapped Tennessee Tech's three-game winning streak and dropped them to 12-10 overall and 8-5 in the OVC.
Kevin Murphy led the Golden Eagles with 13 points. However, he was their only double -figure scorer. He lead the team in scoring at 15.5 ppg while Zach Bailey is averaging 10.5 apg while OVC assists leader Zac Swansey is at 9.9 ppg along with 6.6 apg.