APSU Men's Basketball

Bridgeport, CT – For only the second time in Dave Loos's 21-year Austin Peay State University coaching career will a Governors team travel to the east coast to play a basketball contest.
The Governors will travel to Bridgeport, CT, noon (CST), Saturday to face Fairfield, the Metro Atlantic Athletic Conference regular-season champion, at Webster Bank Arena at Harbor Yard in a Sears BracketBusters ESPNU telecast. The Governors' previous east swing came in the 2005-06 season when they played Rutgers as part of the South Padre Invitational.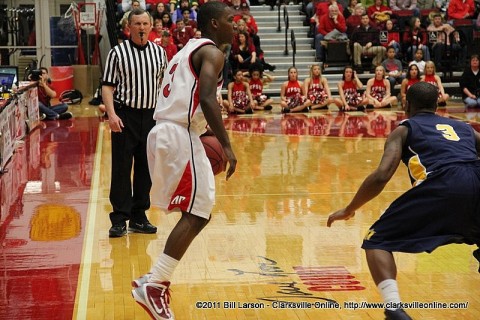 Fairfield enters Saturday's contest with a 21-5 record, 14-2 in the MAAC, having won 9 of the last 10 games.
Sophomore guard Derek Needham is the team's top scorer, averaging 14.2 ppg. He has scored in double figures in all but four games this season. Center Ryan Olander offers a strong inside presence. The 7-footer is next in line with a 10.7 ppg scoring average while grabbing team team-best 7.0 caroms per contest.
Fifth-year coach Ed Cooley has now put together back-to-back 20-victory seasons for the first time in his Fairfield coaching career.
The Governors, meanwhile, are starting to regain their footing after losing three of four Ohio Valley Conference games in late January-early February that saw APSU fall from first to third in the league race. However the Govs currently have won two straight, including Tuesday night's 73-70 road win at Jacksonville State.
The Governors, who were mainly a perimeter team during much of the season, have now reverted to typical Dave Loos-Austin Peay basketball. The Governors are playing inside out. In the loss to Tennessee Tech, February 7th, freshman forward Will Triggs scored 25 points.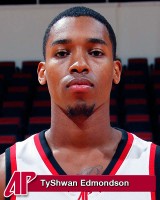 In APSU's victory last Saturday against Tennessee State, the Govs' inside duo of John Fraley and Triggs combined for 32 points. Against Jacksonville State, Tuesday, they combined for 39 points, including a career-best 25 by Fraley on 9-of-10 floor shooting.
It has allowed TyShwan Edmondson, the OVC scoring leader for much of the season, a chance to regain his shooting touch. He connected on three-of-five three pointers against Jacksonville State in scoring 14 points.