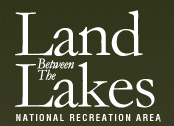 Golden Pond, KY – Land Between The Lakes (LBL) National Recreation Area begins its 2011 operations on Wednesday March 2nd, by opening several popular visitor attractions.
The Golden Pond Planetarium and North and South Welcome Stations open their doors March 1st, along with Hillman Ferry and Piney Campgrounds.  (After recent improvements, the campground reservation system is now available for use.)  Beginning March 2nd, The Homeplace and Woodlands Nature Station will be open Wednesday through Sunday during March, and then open seven days a week beginning April 1st. 
The Elk and Bison Prairie remains open from dawn until dusk every day, year-round. The Golden Pond Visitor Center, Wranglers Campground, and Turkey Bay Off-Highway Vehicle Area remain open year-round as well.
"At LBL the spring season brings fresh opportunities for environmental education. We are excited about the programs we have planned for 2011, such as the Spring Break Programs at Nature Station, which provide an excellent way for children to connect with the natural world," said Sharon Waltrip, Program Manager for environmental education. "Our facilities provide opportunities for hands-on learning, and encourage visitors to get outdoors to experience nature and history for themselves." 
The Golden Pond Planetarium, open daily beginning March 1, provides a full dome viewing experience with digital multimedia equipment. Returning to the planetarium in 2011 will be Blown Away:  The Wild World of Weather, Far Out Space Places, Journey to the Edge of Space and Time, The Skies Above, and Two Small Pieces of Glass. Join us for an exciting glimpse of the night skies filled with celestial objects, constellations, and more!
LBL's spring calendar is full of a variety of fun programs for visitors of all ages and interests. The popular Discount Package, which offers a 25% discount on admission to multiple attractions, will be available again this year, as well as the LBL Fun Card, a discount opportunity that primarily benefits area residents and others who frequent LBL. The LBL Fun Card provides your choice of 10 admissions to The Homeplace, Nature Station, Planetarium, or a combination of all three.  With no expiration date, the LBL Fun Card is good until all 10 visits have been used.
LBL honors the National Parks and Federal Recreation Lands Access and Senior Passes along with the Golden Age and Access Passports.  In addition to the 50% discount offered for the basic campsites, the Passes and Passports will also be honored at The Homeplace, Nature Station, and Golden Pond Planetarium for 50% off general admission for the card holder.
About Land Between The Lakes
Land Between The Lakes is managed by the Forest Service, U.S. Department of Agriculture, in partnership with "Friends of LBL," to provide public lands outdoor recreation and environmental education.  We encourage visitors to review our website at www.lbl.org each season, and throughout the season, for our Calendar of Events, maps, updates on programs and policies, safety information, and temporary trail and road closures. Additional LBL and "Friends of LBL" information is also available on our website or by calling 1-800-LBL-7077 or 270-924-2000.