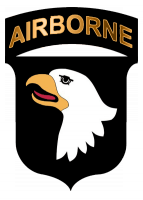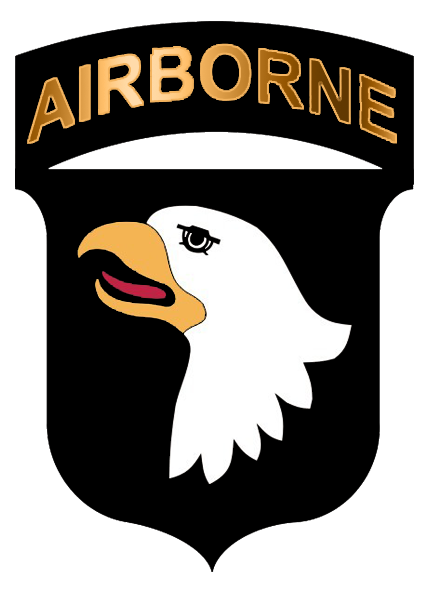 Fort Campbell, KY – It was a early morning arrival as 274 Wings of Destiny Soldiers with the 101 Combat Aviation Brigade arrived back to Fort Campbell, Kentucky on a rainy morning. The hanger was packed with family and friends as severe storm passed through the area. Several family members braved the rain and wind to welcome home their soldier.
Due to the weather soldiers were allowed to break protocol of dropping their gear and forming up just outside the hanger to march in. As the doors opened a few feet, one by one, they filed into the hanger and into formation. Once inside they marched forward as the Welcome Home Ceremony began.
Waiting inside was Molly Castro who was looking forward to seeing see her husband  CW2 Tomas Castro, an Apache Pilot with C-Company 1-101st Aviation Regiment, Task Force Eagle Assault. Molly stated that  the anticipation makes minutes feel like hours, but all in all it was a great experience. The Castos looked forward to being able to walk in the front door of their home together for the first time in a long time.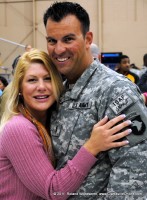 The flights are scheduled over the next  few days. Today more soldiers from the 101 CAB  are schedule to arrive at 9:45am. The next scheduled flight will also be 101 CAB on Sunday Feb 27th at 9:00am and again on March 3rd at 11:10am will be another group with the 101 CAB.
If you wish to attend a Welcome Home Ceremony, check flight schedule online as times are subject to change at any time. When arriving to Fort Campbell, go in via Gate 7. If you don't have installation stickers on your vehicle, you will be required to get a visitor pass. From here just follow the signs to the ceremony parking. Waiting buses transport the Family members safely to the hanger.