Clarksville, TN – To celebrate Women's History Month,  Customs House Museum and Cultural Center created its own beauty arena with Saturday's boutique-style "Beauty Inside and Out." The scores of women who attended will long remember the fabulous food and activities ranging from fashion to health to art and crafts.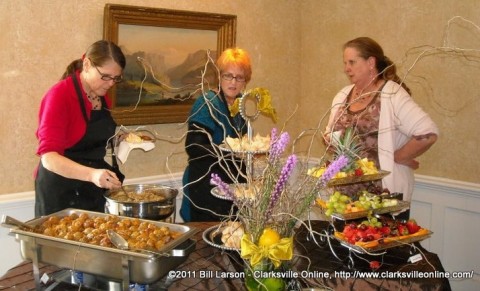 Food was the hit of the show. Owner of The Choppin Block restaurant at 2212 Madison Street, Beverly Bridges and her son, Brandon, presented an unforgettable buffet consisting of an egg, mushroom, spinach, cheese and onion casserole, along with bread pudding, French toast casserole, scrambled eggs, sausage balls, crisp wontons with spicy filling, and assorted fruits. Accompanying this feast were fruit tea, mimosas, and coffee. Attendees learned about the catering opportunities in addition to regular menus at the Chopping Block. Needless to say, this started the day off on a delicious note.
Gourmet desserts from The Looking Glass restaurant, 329 H Warfield Boulevard, tempted the most dedicated dieter to deem each one of the most essential food groups. The canollis (from Sicilian cooks who created these "little tubes") were not to be missed because everyone needs a bit of sweet in her diet. Of course, carrot cake can be considered a vegetable along with chocolate-covered strawberries, a fruit. The cheesecakes are a milk product and brownies a required dark chocolate. A taste of one of the four Beachaven wines accompanied these fabulous desserts.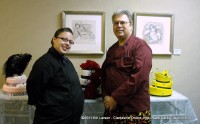 Decorating The Looking Glass area were samples of the many cakes decorated by Ms. Rosa Guaro, cake designer. Ranging from a honey bee hive to a lady's hat to wedding designs fit for a princess, the cakes added food fashion to the catering efforts of Oliver Nguyen, pastry chef; Francisco Estrada, executive chef; and Brian King, culinary chef. Manager Tom Noerr served as host for the day and described the appetizers, entrees, wraps, pizzas, salads, soups, and, of course, desserts featured from 7:00am to 9:00pm Monday through Thursday, and until 10:00pm on Friday and Saturday. The restaurant is closed on Sundays.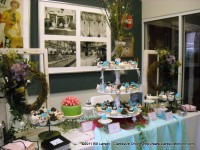 Sugar Lane CupCakery, whose owner is MaryBeth Newman, exhibited many types of cupcakes in the Café on the first floor of the museum.
Next door to The Looking Glass room was a display by Eden Day Spa and Salon. Specialties at their location at 150 Hillcrest Drive include massage therapy, facials, specialty treatments (perfect plant peel, revitalizing eye treatment, oleation treatment), cosmetic artistry, wedding artistry, spa body treatments, salon services (haircuts, color, nails including men's treatments), hair removal, and special packages including many different combinations of all these beauty benefits.
It is necessary to call at least five days in advance to schedule any appointments and for popular packages (especially for end of the week times), one should call at least two weeks in advance. You should arrive at least 20 to 30 minutes in advance in order to begin your time of relaxation.
The Avalon Room, an upstairs meeting room, is also available for small groups or parties during any non-business hours. Owners Judy Bennett and Cindy Chester are happy to help you with arrangements.
"Ladies First: Vintage Clothing from the Collection and Women Artists of Tennessee" is the featured show on the first floor of the museum. The works of Camille Engel, Sandra Paynter Washburn, Miranda Herrick, Mitzi Cross, Edie Maney, Denise Stewart Sanabria, Diane Shaw, Terri Jordan, Linda Kerlin, Tammy Dohner, Cyndi McGrail, Claudia Balthrop, Alison Oakes, Melina Peavy, Jennifer Otto, and Sher Fick range from paintings to mixed media to photography. Alongside these works are examples of fashions from the past including clothing, jewelry, fans, and accessories collected by the museum itself.
On the lower level of the museum is "Stitched," the fabric wall hangings of Ludie Amos. Showing daily life in African American experience, Ms. Amos's three-dimensional tapestries are truly folk art of the highest degree. If you see only one exhibit in March, let it be this one. You will never forget her work. Also, beside her work are antique sewing items from the museum collection.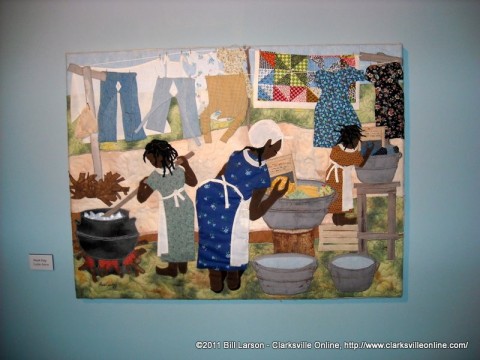 The floral paintings of Sandra Vanderpool are found in the Peg Harvill Gallery. Ms. Vanderpool paints lifelike azaleas, orchids, sunflowers, and other flowers that glow on their huge canvasses.
Next door is "Taking Positions: A Civil War Retrospective," an exhibit featuring the Secession Debates, the role of women, and Clarksville before the War. Here are photographs of women, several of them who are Montgomery County natives, who played a role in Civil War activities.
Another participant in Beauty Inside and Out includes the Maxwell Clinic. Grace Vinson, APRN, described a "Journey to Health" as a transition to health through treatment at the clinic. Located at 556 Fire Station Road, Maxwell Clinic is described as a functional medicine collaborative care practice and offers evaluation, physicals, no-shot allergy solutions, bio-identical hormone therapies, adrenal and thyroid recovery, cancer predictions and prevention, shape, weight and metabolic optimization, certified health coaching, brain chemistry and mood balancing, EEG-neurofeedback, and detoxification protocols.
Dr. David Haase of the Maxwell Clinic and Nancy Telford, RN, of Radiance Holistic Health and Wellness, held a panel discussion of natural and practical ways you can transform your body. Sonya Laffoon of Eden Day Spa described skincare and body treatments beneficial to maintaining youthful skin and stress management.
Swirlz Art Studio, 329-E Warfield Boulevard, offered a one-hour painting class in which all participants learned to paint a simple picture on canvass. The studio offers classes that may be viewed at swirlzart.com for sign-up.
Elements, had a booth with Mary Beth Russell describing the types of event design and planning featured by her company.
Betsy's Barn of Yarn displayed beautiful knitted and crocheted items from its collection. The store is moving this week and will be opened for business again soon. E-mail betsy@betsysbarnofyarn.com for more information.
Knock Out Originals, with Lisa Adames and Kelly Buher, showed their totes, diaper bags, purses, crochet hats, and burp cloths. Most can be embroidered with your initials or name.
A special benefit of Beauty Inside and Out was "Fashion Tricks of the Trade" with Susan Smith, an independent CAbi Consultant. CAbi is a designer fashion company whose designs are created by Carol Anderson. The collection is based on choosing six interchangeable items of clothing that can be mixed and matched for numerous occasions.
Susan Smith will come to your house to provide a closet audit and help you pare down the miscellaneous items you no longer need but have somehow become emotionally attached to. She also presents CAbi fashion shows at which participants can buy the basics needed for a practical and beautiful wardrobe.
At Beauty Inside and Out, Susan showed a six-item wardrobe one might pack if going, for instance, to a wedding in Hawaii. The wardrobe consisted of basic white top, white jeans, a white eyelet skirt, a white jacket, and a "wow" yellow jacket. Additionally one could pack in a carry-on piece of luggage a print or solid top of another color and/or another dressy top if one chose to do so. All these items could be mixed and matched for various activities.
Susan also displayed a basic wardrobe for the working woman. Assuming every woman had in her collection jeans or khakis and a white camisole, the six additional items would be grey linen pants, a solid black skirt, a black-and-white striped shirt, a black sweater jacket, a colored shirt, and a "wow" jacket with ruffles. Additions could be black pants and/or a black striped sweater. These items can always be mixed and matched for any occasion.
An additional hint for short women is that gold shoes make you look taller, Susan insisted.
For the $15.00 fee for museum members or $25.00 for non-members, each received a Clarksville Family Magazine tote containing a calendar and sewing kit with lint remover from One Stop Promotions, and purse-sized mirrors from Legends Bank.
Needless to say, a great time was had by all.
Be sure to put this event on your calendar for next year because it will surely grow to be even bigger and better.
Photo Gallery