APSU Women's Softball

Clarksville, TN – Austin Peay's softball team fell behind early against Eastern Michigan Saturday morning at Lady Govs Field and never recovered on their way to an 8-3 loss.
The second game of the doubleheader was suspended by lighting and rain in the top of the third inning, with Austin Peay leading 1-0.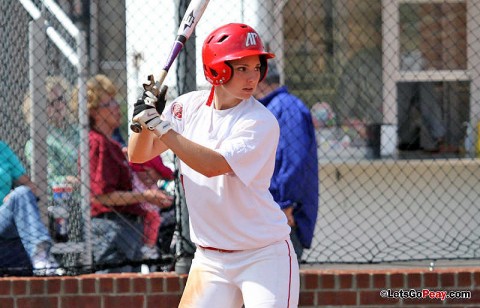 Austin Peay (5-21) got down 3-0 to the Eagles after the first half inning of play, with Eastern Michigan collecting six of its 14 hits in the frame, including five of those hits coming against Lady Gov starter Ashley Bolda (1-5), who only lasted two-thirds of an inning.
The Lady Govs responded with a run in the bottom of the first, with freshman Lauren de Castro opening up the inning with a single and moving into scoring position when Eastern Michigan (10-4) shortstop Stacie Skodinski's throw went into the APSU dugout.
After moving to third on an infield out, de Castro would score on an illegal pitch.
The Lady Govs continued to cut into the Eagles lead in the second inning, scoring one run to make it 3-2, but could have done much more damage.
Red-shirt freshman Kristin Whitmire opened up the inning by getting hit by a pitch, moved to second on a bunt single by red-shirt sophomore Shelby Norton and scored on a throwing error by Ignowski on a ground ball by red-shirt sophomore Jessica Ryan.
Freshman Kayla Davidson would follow with a walk, giving Austin Peay bases loaded, no outs in a one-run game.
But sophomore Morgan Brewer and de Castro struck out, with junior Catie Cozart popping up to center field to end the threat, and leaving the first three of their nine total runners stranded on base.
The Eagles would start to put some more distance between themselves and Austin Peay in the fourth inning, scoring two runs in the fourth inning and three more in the sixth inning, to extend its lead out to 8-2.
Austin Peay would score the game's final run in the bottom of the seventh inning on a one-out RBI double down the left field line by senior Tiffany Smith scoring Cozart – who had opened the inning with a single.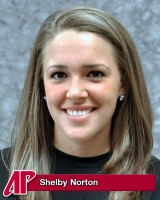 Smith and Norton would finish the game with two hits each to lead the Lady Govs.
Game 2 of the doubleheader was suspended in the top of the third inning, with the Lady Govs leading 1-0.
The two teams will try to resume their series Sunday, at 11:00am, with the completion of Saturday's suspended game, followed by the regularly scheduled series finale.
Photo Gallery