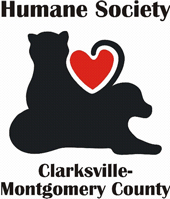 Clarksville, TN – The Clarksville-Montgomery County Humane society rallied their supporters this weekend for two gala evenings of entertainment which raised nearly $20,000 to help support their vital mission in our community.
Dubbed Legends of Clarksvegas, the benefit concert featured Cheryl Crenshaw and Donita Crenshaw as the Judds, Kenny James as Buddy Holly, Steve Bobbitt as Rod Stewart, and Freddy Baggett as Elvis Presley. They were backed up by the EAS Showband.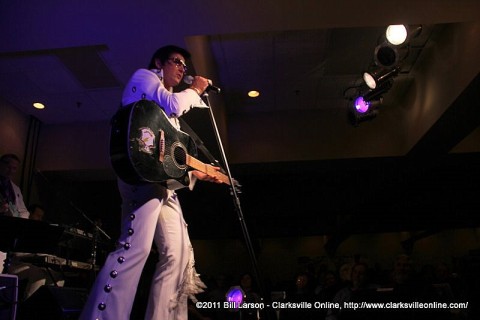 The likenesses of the performers were absolutely amazing. They not only looked like the celebrity that they represented, but they sounded like them as well. The audience got into the performances with many either dancing, or singing, along with the performers.
The show was "masterminded & orchestrated" by Freddy Baggett, with the venue being provided by "long-standing and unconditional supporters" of the Humane Society, Charlsie Hand Lankford and her staff at the Riverview Inn. Tina Hartman with Picture Your Photo Pet Art & Photography provided her photographic talents to the event.
"Their contributions made this a 100% profit event for the Humane Society." said Director Amy Shaver. She continued, "I am SO proud to be Director of this organization, which keeps me surrounded by some very special people that share my passion for philanthropy and making Clarksville, TN a better place to live for both humans & animals alike."
The Humane Society has been selected as benefactor for several events over the last year: The Waggle golf tournament, Comedy on the Cumberland, and most recently Legends of Clarksvegas. It looks like the Waggle will be repeated this year, which the Humane Society is very excited about. As for a repeat of Legends of Clarksvegas, according to Amy Shaver, "the possibility has been mentioned… we'll just have to wait and see if Elvis wants back in the building! :)"
Video
Photo Gallery
About Kenny James
Music has, obviously, always been an integral part of Kenny's life. Even early on, he always managed to work it into his daily schedule. In Indiana, for example, he worked a day job from 8:00am-4:30pm, then played bar gigs at night until 2:00am – came home, showered, slept (a bit), and was back up for work at 7:30am. When he had a gig elsewhere, he'd use his vacation days. He also worked for many years at Wachala's Music Store in Indiana.
For more information on Kenny James, visit www.angelfire.com/band2/yourbuddykenny/
About Steve Bobbitt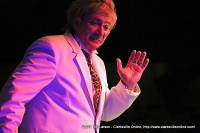 An energetic entertainer who brings Rod Stewart alive with his perfect portrayal of the energetic and legendary 'leg man'. He's got the look and he's got the moves. Steve has been performing as Rod Stewart for ten years, and knows how to keep the party hopping.
For more information on Steve Bobbitt visit www.rodstribute.com/steve.html
About Freddy B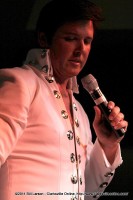 For the past 6 years Freddy B. has performed all over the USA and Canada making new fans along the way.
From the moment he hits the stage you can feel the excitement of the crowd and the energy of his performance that makes his audience come alive.
For more information on Freddy B visit www.freddyb.net
About Cheryl Crenshaw
Cheryl began singing professionally in the early 1980's and released 3 country music singles in Nashville with "No Time to Lose" reaching the number 2 spot on the Indie charts. She was honored to be asked to perform at the legendary Grand Old Opry on their gospel show.
Cheryl was a morning personality on country station US-99 and she brings out this outgoing personality on stage and in life in general.
For more information on Cheryl Crenshaw visit www.elvistributeband.com/cherylpage.htm
About Donita Crenshaw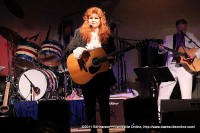 Born into a musical family and encouraged by her grandmother to listen to Patsy Cline, Connie Smith, and Loretta Lynn, within a few months she began singing professionally at the age of 15. While in her teens Donita also discovered Dolly Parton, Linda Ronstadt, and Cher.  All of these influences can be heard in Donita's own powerful voice.
As a Nashville recording artist Donita toured with her band and was the opening act for many top artists in the music industry.  One of the highlights of her career came in 1991 when Donita and her band opened a show with one of her mentors, Grand Old Opry Star Connie Smith. During the show Connie called Donita up on stage to sing with her, it was a moment she will never forget.
For more information on Donita Crenshaw visit www.elvistributeband.com/donitapage.htm
About the EAS Showband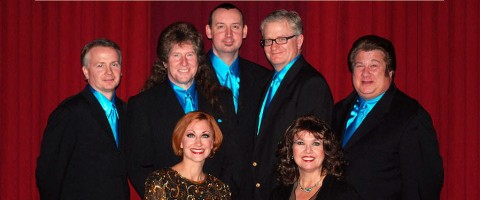 For more information on EAS Showband visit www.elvistributeband.com