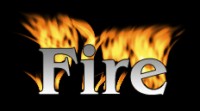 Oak Grove, KY – On Monday April 5th, the tenant of this home on Desota Lane was cooking in the kitchen when she decided to go to the other  room for a moment and when she returned, the kitchen was in flames and within minutes the house was fully engulfed in flames.


The Oak Grove Volunteer Fire Department requested back up from surrounding Fire Departments including Fort Campbell, Penbroke and Herndon to help put out the fire. Flames were so intense that it melted the siding off the homes located to the left and the right and there were concerns they to may catch fire. Reports indicate there were no one was injured in conjuntion with the fire. The occupants were able to salvage a few items from the home, while most everything was lost in the fire.

The fire that was reported at approx. 6:45pm may have started in the kitchen.  Assistant Fire Chief Lonnie Forst said flames quickly took over the home shooting through the roof and out the front door. A propane take may have exploded in the garage from a Bar-B-Que grill once the fire spread. Firefighters cleard the scene at 10:20pm.  It's likely this home will be considered a total loss once the Insurance company arrives to evaluate the scene.



About Roland Woodworth
My name is Roland Woodworth, a professional REALTOR® with the experience & knowledge to assist you with all your real estate needs. My main area of focus is Clarksville TN , Oak Grove KY and the surrounding areas. I have over 12 years experience in the Real Estate industry and I'm a full time Realtor licensed in both Tennessee and Kentucky. I'm also a NAR Certified Short Sale & Foreclosure Resource.

I moved to Clarksville while stationed in the US Army at Ft Campbell, KY in 1992. I have been in sales in the area since 1996. I received my Real Estate license in 1999.   I have been involved in many community organizations including the Clarksville Area Chamber of Commerce where I was a Chamber Ambassador for 5 years. I was the Fair Chairman for the 2002 North Tennessee State Fair in Clarksville, TN, and also president of Fair Inc which is the governing board consisting of members of the Clarksville Jaycees, City of Clarksville and Montgomery County. I'm  also a member of the Clarksville Jaycees Volunteer Col. Corp. a past member of the Clarksville Jaycees and the Downtown Kiwanis Club. I participated in the 2005 and 2009 Clarksville Extreme Makeover Home Edition builds here in Clarksville – Montgomery County.

Web Site: http://www.ClarksvilleHomeInformation.com
Email:
Sections
News
Topics
Fire, Fort Campbell Fire Department, Herndon Fire Department, Oak Grove Kentucky, Oak Grove Volunteer Fire Department, Pembroke Fire Department