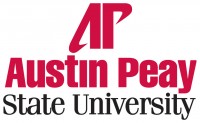 Clarksville, TN – This summer, eight Austin Peay State University physics students will spread out across the country to take part in the prestigious Research Experiences for Undergraduates (REU) program at some of the nation's top universities.
The REU program, which is funded by the National Science Foundation, provides grant money for undergraduate students to participate in innovative new research. Thousands of college students apply each year in different disciplines, with only a select few receiving the coveted REU Awards.
For the last several years, the APSU Department of Physics has actively pushed for its students to apply for the program. Dr. Alex King, department chair, said the experiences students receive through this program will help them with their future career choices.
"We do computational physics and some observational astronomy research here (at Austin Peay), and we're building a focus in experimental and computational materials science," King said. "If the students don't want to do one of those things, the idea is they should find what they might be interested in doing for graduate school or for a career, find a school that does exactly that thing and go try it for the summer."
Major universities across the country host REU sites each summer. According to the NSF website, a site typically "consists of a group of 10 or so undergraduate students who work in the research programs of the host institution. Each student is associated with a specific research project, where he or she works closely with the faculty and other researchers. Students are granted stipends and, in many cases, assistance with housing and travel."
For more information on this program or these students, contact the APSU Department of Physics at 931-221-6116.