APSU Men's Baseball

Jackson, TN – Starter Jeremy Dobbs allowed one run over eight-plus innings and led Austin Peay State University's baseball team to a 2-1 victory against Tennessee Tech, Thursday night, in Ohio Valley Conference Baseball Championship action at Pringles Park.
After working out of a bases-loaded jam in the first, Dobbs (9-2) got rolling in the second. He surrendered a leadoff walk in the second but wiped it out immediately as the Golden Eagles attempted to sacrifice the runner over but Dobbs jumped on the ball and started a double play that included a beautiful turn by shortstop Reed Harper.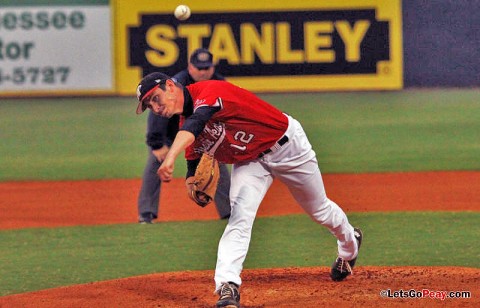 That double play started a stretch where Dobbs retired 13 consecutive batters before allowing a walk in the sixth. He surrendered just one hit through the first six frames.
Tennessee Tech (25-28) finally touched Dobbs for back-to-back doubles in the seventh, first baseman Zach Stephens breaking up the shutout bid with his RBI double. The Golden Eagles moved the runner over with a sacrifice hit then attempted to score the run on a squeeze bunt. However, third baseman Devin Rivers bunt was pounced on by Dobbs who shoveled the ball to catcher Matt Wollenzin who applied the tag for the second out. Dobbs got out of the inning with a ground out holding a 2-1 lead.
Dobbs tossed a three-up, three-down eighth and came out to start the ninth. However, he surrendered a leadoff single to center fielder Chad Oberacker – the final batter he faced. Closer Ryne Harper entered the game and retired all three batters he faced, including back-to-back strikeouts to end the game.
Dobbs notched his ninth victory after allowing one run on four hits over a career-long eight-plus innings while striking out five. Harper picked up his season's eighth save.
Offensively, Austin Peay (31-22) scored in the third and fourth innings. Center fielder Michael Blanchard led off the third with a double down the left field line then advanced to third on a passed ball. First baseman John Hogan brought the run home on a ground out.
In the fourth, second baseman Jordan Hankins was hit by a pitch with one out. Left fielder Tyler Childress doubled into the left center gap, allowing Hankins to score from first, giving the Govs a 2-0 lead.
However, the Govs had plenty of opportunities to add to their lead, stranding 11 runners on base with at least one runner left on base in each of the first seven innings. Austin Peay finished with six hits, Blanchard leading the effort with two hits.
Tennessee Tech was limited to four hits, one each by the two through five hitters in its lineup.
Austin Peay advances in the OVC Tournament's winner's bracket and will face No.3 seed Jacksonville State in a 7:00pm, Friday contest. The Gamecocks sent No. 2 Southeast Missouri into the loser's bracket with an 8-2 victory in the day's second game.
Box Score
Austin Peay Sports Information
Tennessee Tech vs Austin Peay
May 26th, 2011 at Jackson, TN (Pringles Park)
Tennessee Tech 1 (25-28)
Player 
 ab 
  r 
  h 
rbi 
 bb 
 so 
 po 
  a 
lob 

WULF, Austin lf 

3 

0 

0 

0 

1 

0 

1 

0 

0 

BEECH, Frankie 2b 

4 

0 

0 

0 

0 

1 

3 

3 

0 

DONALDSON, Casanova rf 

3 

0 

1 

0 

1 

1 

0 

0 

0 

OBERACKER, Chad cf 

4 

0 

1 

0 

0 

0 

3 

0 

1 

BURGESS, Ben c 

3 

1 

1 

0 

0 

0 

8 

2 

0 

STEPHENS, Zach 1b 

3 

0 

1 

1 

0 

1 

3 

0 

3 

   GUYEAR, Zephan pr/1b 

1 

0 

0 

0 

0 

1 

3 

0 

0 

FRAZIER, Evan dh 

1 

0 

0 

0 

1 

1 

0 

0 

0 

   POWERS, Trice ph 

0 

0 

0 

0 

0 

0 

0 

0 

0 

   SHERFIELD, Tevis ph 

1 

0 

0 

0 

0 

1 

0 

0 

1 

RIVERS, Devin 3b 

3 

0 

0 

0 

0 

0 

0 

2 

0 

HAYES, Chad ss 

3 

0 

0 

0 

0 

1 

3 

3 

1 

SHEPHERD, Matthew p 

0 

0 

0 

0 

0 

0 

0 

0 

0 

   PRICE, Nick p 

0 

0 

0 

0 

0 

0 

0 

0 

0 

Totals 

29 

1 

4 

1 

3 

7 

24 

10 

6 

  

Austin Peay 2 (31-22)
Player 
 ab 
  r 
  h 
rbi 
 bb 
 so 
 po 
  a 
lob 

GAUTIER, Rolando rf 

4 

0 

0 

0 

1 

2 

1 

0 

2 

BLANCHARD, Michael cf 

3 

1 

2 

0 

1 

0 

0 

0 

2 

BACHMAN, Greg 3b 

4 

0 

0 

0 

0 

2 

0 

0 

1 

HOGAN, John 1b 

3 

0 

1 

1 

1 

0 

12 

2 

0 

HARPER, Reed ss 

4 

0 

0 

0 

0 

1 

1 

4 

2 

WOLLENZIN, Matt c 

2 

0 

1 

0 

2 

1 

7 

1 

0 

HANKINS, Jordan 2b 

2 

1 

0 

0 

1 

0 

2 

4 

1 

CHILDRESS, Tyler lf 

3 

0 

1 

1 

1 

1 

3 

0 

3 

HUDSON, Cody dh 

3 

0 

1 

0 

0 

1 

0 

0 

0 

DOBBS, Jeremy p 

0 

0 

0 

0 

0 

0 

1 

2 

0 

   HARPER, Ryne p 

0 

0 

0 

0 

0 

0 

0 

0 

0 

Totals 

28 

2 

6 

2 

7 

8 

27 

13 

11