If you haven't discovered the delights of shopping in the Guthrie, Kentucky area, you need to get yourself on the road this week. You have to go to Schlabach's Bakery, first so that you get a good selection because they sell out quickly; the next stop on your trip should be Pencham's Tack Store; followed by The Flower Pot; and the wonderful Country Pantry, one of the area's best kept secrets!
Schlabach's Bakery (6255 Guthrie Road) is just about heaven on earth for sweets and bakery goods. Imagine the joy of finding a cherry or apple or chocolate fudge (or five other varieties of) pie warm from the oven; the $7.10 price is a true bargain. You'll find cakes, cookies, fried pies (only to die for!), sweet rolls (five different kinds), jelly rolls, pumpkin nut rolls, chocolate rolls, breads (white, wheat, sourdough, salt rising, raisin), dinner rolls and more. You can buy granola, noodles, jams, apple butter, honey and sorghum. And don't forget the doughnuts (if any are left by the time you arrive!)
Opening first in 1970, Schlabach's is owned presently by Leroy Schlabach. The family-run business is a popular destination for anyone who enjoys good food. It is open on Monday, Tuesday, Wednesday, Friday and Saturday. Don't show up on Thursday or Sunday or you will be sad because they are never open on these two days.
The line forms as soon as the doors open at 8:00 a.m. and continues until closing time at 5:00 p.m.
I personally had the hardest time deciding what to buy—or actually, what I could leave behind. Every person in the store left with large bags of goodies. The owner was refilling the shelves throughout my visit, but all the doughnuts were gone by 10:00 a.m. I've heard that you can call ahead with large orders and then load your vehicle as soon as you arrive.
Outside Schlabach's Bakery, you can find beautiful outdoor country- and Adirondack-style furniture made by Ronald Schlabach. Tables, chairs, swings, rockers, gliders and benches are a few of the offerings. Prices range from $42 for an unpainted ottoman to $395 for a painted or sealed octagonal picnic table. Especially tempting is the combination of an A-frame and swing set that can give you many hours of outdoor relaxation. All these items are sold by Mr. Leroy's son, Jeremiah.
Pencham Tack Store
The next stop is only 1.5 miles away, Pencham Tack Store located at 7925 Guthrie Road (also Route 181 on the map). This is a horse lovers' heaven. This store has everything imaginable for your horses—saddles, bridles, harness, blankets, spurs, etc. The lower floor has not only Western saddles but English saddles, all beautifully crafted—and some even have cushioned seats!
Pencham Tack Store, owned by Johnny and Lena Yoder, is also filled with other items for those of us who don't own a horse. I found a canvas purse with a horse design on it for only $11.95 and bought my husband a leather cell phone case for $9.95. The store offers belts, wallets, belt buckles, and all kinds of accessories. I saw bowls and flatware in one case. At the front of the store is a case full of a variety of sodas and a shelf of snacks.
The day we visited, a cage of four Blue Heeler puppies was sitting on the porch. By the time we left, only three were left.
Please note the sign in the window, ladies: "We appreciate modest dress." You are in Mennonite Country so leave your short shorts and bare tops at home!
The Flower Pot
Just down the road on the left (as you head toward Clarksville) is The Flower Pot, a greenhouse with a nice array of annuals and perennials.
My cousin, Jerry Church, found some unusual red-and-white double petunias. While my mother, Vera Freeman, located an unusual leafy variety of coleus. We also saw a beautiful yellow hibiscus.
Donna Nabb, the owner, also features a wide variety of concrete items for the garden.
They also offer Precut Christmas trees, a gift shop, restrooms, picnic area, petting zoo, farm animals, birthday parties, school tours
Country Pantry
Finally, on the right is the Country Pantry. Make sure you save at least 30 minutes to an hour for this market. It has a huge variety of foods and utensils that you will love. Here are a few of the offerings: barnyard eggs, grass-fed beef, cheese, fresh milk, sausages, bulk foods, stainless kitchenware, iron skillets, and spices.
The prices on their spices can only be described as true bargains. The quality is the highest and many are freshly grown in the area.
Also available are all kinds of candies, nuts, flours, meals, sugars, and baking needs. You can buy jams, jellies, soup mixes, dried beans, veggie chips and sticks….the list goes on and on. They even have greeting cards.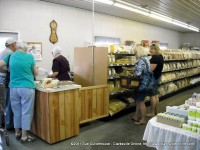 Country Pantry is open Monday through Saturday from 8:30 a.m. until 5:00 p.m. They are going to be closed on Thursday, June 2, for Ascension Day, and on Monday, June 13, for the day after Pentecost. They are also closed for Good Friday, Easter Monday, Thanksgiving, and Christmas.
Don't miss this opportunity to purchase in a store where you could literally eat off the floor. The people who work here—like all the people we met in these shopping arenas—are polite, cheerful and kind. No one hurries you. Everyone is most accommodating and your visit will be so pleasant, you will be eager to return.
We left Clarksville about 9:00 a.m. on a Saturday morning. We had been to all four businesses by noon and had shopped leisurely at each.
This day trip is not to be missed.
(By the way, always ask before taking any pictures. Many Mennonites and Amish people do not want their faces to be photographed.)
(Here's another thing you need to keep in mind. These stores do not have public rest rooms—so go before you leave home!)
Photo Gallery
About Sue Freeman Culverhouse
Author of Tennessee Literary Luminaries: From Cormac McCarthy to Robert Penn Warren (The History Press, 2013) Sue Freeman Culverhouse has been a freelance writer for the past 36 years. Beginning in 1976, she published magazines articles in Americana, Historic Preservation, American Horticulturist, Flower and Garden, The Albemarle Magazine, and many others. Sue is the winner of two Virginia Press Awards in writing.

She moved to Springfield, Tennessee in 2003 with her sculptor husband, Bill a retired attorney. Sue has one daughter,  Susan Leigh Miller who teaches poetry and creative writing at Rutgers University.

Sue teaches music and writing at Watauga Elementary School in Ridgetop, Tennessee to approximately 500 students in kindergarten through fifth grade. She also publishes a literary magazine each year; all work in the magazine is written and illustrated by the students.

Sue writes "Uncommon Sense," a column in the Robertson County Times, which also appears on Clarksville Online. She is the author of "Seven keys to a sucessful life", which is  available on amazon.com and pubishamerica.com; this is a self-help book for all ages.

Web Site: http://culverhouseart.com/
Email:
Sections
Arts and Leisure
Topics
Jerry Church