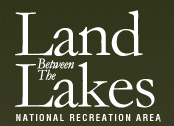 Golden Pond, KY— Celebrate July 4th weekend with unique activities at Land Between The Lakes (LBL) National Recreation Area.  Whether you're reliving the patriotic spirit of the 1850s or "picnicking" with the animals, there will be an outdoor activity for every member of the family to enjoy.

Join us for a day–or the entire weekend–LBL staff will be offering fun and educational programs all weekend long. The highlight of the weekend is Monday, July 4th, as The Homeplace (HP) hosts a traditional 1850's Independence Day Celebration.  Kick off the day's festivities at 1:00pm with the raising of the 1850's USA 30-star flag. A favorite speech in the 1850s was the reading of The Declaration of Independence; join the group reading after the flag-raising.

Enjoy a special performance by Kentucky statesman Henry Clay, portrayed by George McGee and funded by the Kentucky Humanities Council and the National Endowment for the Humanities. Spend the afternoon enjoying historic games for all ages, a pie eating contest, old-time music, and some mouth-watering watermelon.

"July 4th at The Homeplace is a wonderful way for the whole family to experience and learn the history behind one of the most important holidays in the 1850s," said Special Events Coordinator Cindy Earls. "We welcome everyone to make a day of it–bring lawn chairs, blankets, and your picnic basket of goodies."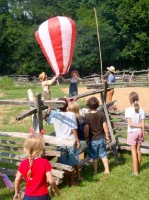 Everyone enjoys a July 4th picnic, including the Nature Station (NS) animals! Travel to the NS to visit with our resident animals while they enjoy their special holiday treats. 
All programs are included with general admission to HP and NS: $4.00 ages 13 and up, $2.00 ages 5-12, and free for ages 4 and under. Admission to the Golden Pond Planetarium (GPP) for Laser Light Music Shows is $6.00 on Friday and Saturday nights for all ages. (Advanced ticket purchases are available by calling 270-924-2237.) Sunset Canoe Trip requires additional fee and reservation–call 270-924-2020.
LBL programs taking place during the weekend include:  
Saturday, July 2nd
Visit with Smokey Bear: Throughout the Day – NS
19th Century Photography: 10:00am-12:00pm and 1:00pm-4:00pm – HP
What Lurks at Night by Your Campsite: 11:30am – NS
Wet & Wacky Games: 1:00pm – NS
Eagle Craft Booth: 2:00pm-4:00pm – NS
Sunset Canoe Trip: 6:00pm-8:30pm – NS
Laser Spirit: 7:00pm – GPP
Journey to the Edge of Space and Time: 8:30pm – GPP
Summer Nights: 9:30pm – GPP
Sunday, July 3rd
Truly American Animals: 12:00pm – NS
Treats with Summer Fruits: 1:00pm – NS
Let the Turtle Race Begin: 2:30pm – NS
Owl Prowl: 7:30pm-9:30pm – NS
Monday, July 4th
Picnic Day for the Animals: Throughout the Day – NS
Brunch for the Bobcat: 11:00am – NS
Vultures:  Nature's Garbage Crew: 12:30pm – NS
Independence Day: 1:00pm-4:00pm – HP
Groundhogs Grumbly Tummy: 1:30pm – NS
Hungry Like the (Red) Wolf: 2:30pm – NS
Turtle Time: 3:30pm – NS
About Land Between The Lakes
Land Between The Lakes is managed by the Forest Service, U.S. Department of Agriculture, in partnership with "Friends of LBL," to provide public lands outdoor recreation and environmental education. We encourage visitors to review our website at www.lbl.org each season, and throughout the season, for our Calendar of Events, updates on programs and policies, safety information, maps, and temporary trail and road closures. Additional LBL and "Friends of LBL" information is also available on our website or by calling 1-800-LBL-7077 or 270-924-2000.
Sections
Events
Topics
American Flag, Canoe Trip, Cindy Earls, Friends of LBL, George McGee, Golden Pond KY, Golden Pond Planetarium, Henry Clay, Independance Day, July 4th, Land Between the Lakes National Recreation Area, LBL, National Endowment for the Humanities, Nature Station, Smokey Bear, The Homeplace, U.S. Department of Agriculture, U.S. Forest Service, Watermelon