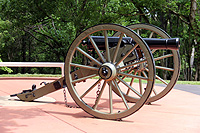 Clarksville, TN – The next meeting of the Clarksville (TN) Civil War Roundtable will be on Wednesday, July 20th, 2011 in our new home at the Bone & Joint Center, 980 Professional Park Drive, right across the street from Gateway Hospital. This is just off Dunlop Lane and Holiday Drive and only a few minutes east of Governor's Square mall. The meeting begins at 7:00pm and is always open to the public.
This meeting's topic is "The Staff of Robert E. Lee"
When the Civil War began, most men serving as staff officers had only vague notions about the extent of their duties.  Some generals used their staffs as military decoration, parading them around in fine uniforms for effect.  Others employed their staffs as glorified couriers.  The vast majority of generals filled their available staff positions with men of ability and character, and held those men to their proper duties.  There was no staff officers training school back then as there is today.
Army of Northern Virginia commander Robert E. Lee's staff cannot be pigeon-holed into any of those categories.  From the beginning Lee operated as a minimalist, consciously surrounding himself with as small and unobtrusive a staff as possible.  Those men—often overworked and obscure—ran the day to day operations of the army.  Who were those men?  How did the famous Lee select them, and how did he use them?  What were their strengths and weaknesses?  Was it too small?
This month's speaker, Robert Krick, historian at the Richmond National Battlefield Park in Virginia, will address those questions and others in this examination of R. E. Lee and his staff.
Our speaker, Robert E.L. Krick, has lived or worked on Civil War battlefields almost continuously since 1972.  He grew up on the Chancellorsville battlefield near Fredericksburg, and graduated from Mary Washington College in Fredericksburg with a degree in history.  He has worked in various historical capacities at several battlefields, including Custer Battlefield in Montana, and Manassas Battlefield.  Since 1991 he has been an historian on the staff at Richmond National Battlefield Park.  Mr. Krick is widely published on Civil War topics.  His first book was a unit history for the H.E. Howard series, The Fortieth Virginia Infantry.  In 2003 the University of North Carolina Press published his biographical register of the Army of Northern Virginia's staff officers, Staff Officers in Gray.  He is now at work on a study of the Battle of Gaines' Mill.
Please join us for what will prove to be an informative program by one of the finest historians of the National Park Service.