Written by Karla Kean

Next week I am scheduled to make salsa with the youth at Brandon Hills but our veggies are not ready yet.  If you have extra tomatoes, peppers (both hot and sweet) and onions, please drop them off at my office no later than July 19th.
The Montgomery County Extension Office is located at 1030 Cumberland Heights road, or if it is closer to leave them at my house you are welcome to do that.  I live at 410 West Coy Circle…behind Barksdale off of Madison street.
For More information me at 931.648.5725 or email me at kkean@utk.edu or kkean1@tnstate.edu .
About Karla Kean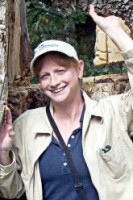 Karla Kean serves as the Extension Agent for the UT Agricultural Extension Office for the University of Tennessee in Montgomery County.
The UT Extension Service provides a gateway to the University of Tennessee as the outreach u?nit of the Institute of Agriculture. With an office in every county, UT Extension delivers educational programs and research-based information to citizens throughout the state of Tennessee. Working with farmers, families, youth, and communities, Extension helps improve people's lives by addressing problems and issues at the local, state, and national levels.