American Heart Association seeking heart/stroke survivors to participate
Nashville Heart Walk on October 1st; Rutherford Heart Walk October 30th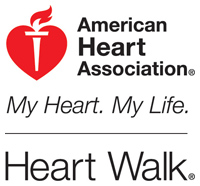 Nashville, TN – Are you a heart disease or stroke survivor – or are you close to one? The American Heart Association wants you.
Today is exactly two months before 10,000-12,000 people take to the streets on Saturday, October 1st for the American Heart Association's Nashville Heart Walk, starting at Vanderbilt University downtown.  This year, the American Heart Association is putting out the call for more "survivor teams" to join the Heart Walk and help fight heart disease and stroke, America's No. 1 and No. 3 killers. Your survivor story and your participation will inspire others, help spread the heart-healthy message and may be the key to helping save another person's life.
The Heart Walk is a non-competitive, fundraising walk including teams of employees from local companies, community groups, and friends and family members of all ages. Funds raised go to research, education and community health initiatives. It is the largest single fundraising event of the association. Everyone – survivors, friends and supporters of all kinds – is welcome. The Nashville Heart Walk is one of the largest in the nation. To sign up or to learn more about the Nashville Heart Walk, visit www.nashvilleheartwalk.org.
If you are in Rutherford County, the Rutherford Heart Walk follows closely behind, on October 30th at Middle Tennessee Medical Center's campus in Murfreesboro. Survivors and friends are also wanted for that walk. To sign up for the Rutherford Heart Walk, visit www.rutherfordtnheartwalk.org.
The Heart Walk is part of My Heart, My Life and is sponsored nationally by SUBWAY® Restaurants. In Nashville, My Heart, My Life is sponsored locally by Vanderbilt Heart. In Rutherford County, My Heart, My Life is sponsored locally by Saint Thomas Heart at Middle Tennessee Medical Center. Local media sponsors of My Heart, My Life include WKRN News2 and WRVW The River 107.5.