Written by Jennifer Andersson
159th Combat Aviation Brigade Public Affairs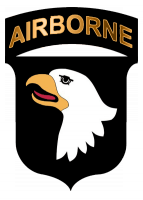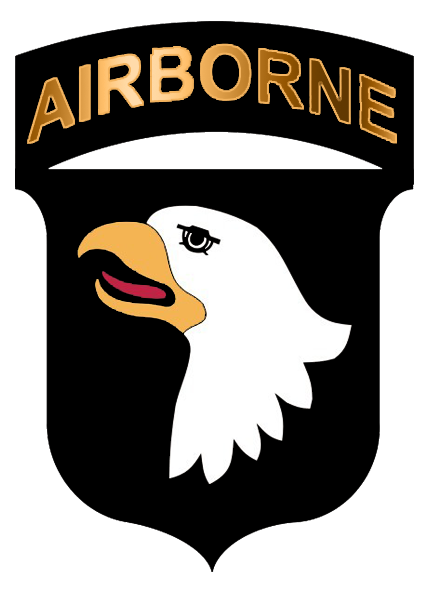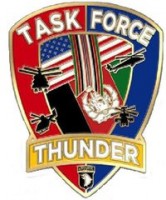 Kandahar Airfield, Afghanistan – Despite increased operation requirements, the Army's Class A aviation accidents – which are the most costly accidents in terms of money or people – have decreased dramatically this fiscal year.
"We've had only one Class A since we deployed six months ago," said Chief Warrant Officer 5 Timothy Burke, the safety officer for Task Force Thunder, 159th Combat Aviation Brigade. "That is down from previous deployments. We had no Class A through C aviation accidents at all from November 2009 to February 2011."
The numbers are down for Class A accidents, and that's remarkable, he said, because Afghanistan's environment is more stressful on the aircraft – given the types of missions Task Force Thunder flies, the terrain and the temperature.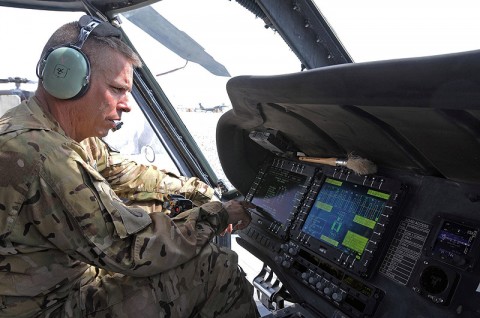 Naturally, during a deployment, aircraft are going to be utilized more frequently than in garrison, which means more wear and tear on the aircraft engines and parts, and in turn, more man hours determining whether parts need to be replaced and which ones, said Sgt. Christopher Sutton, a flight instructor for Company A, Task Force Lift, 7th Battalion, 101st Aviation Regiment.
One of the ways Task Force Thunder keeps its birds aloft is through – not preventative – but predictive maintenance.
Most passenger vehicles today have a computer chip, or "brain," to detect when the oil or tire pressure is low. Task Force Thunder's UH-60A, L and M Black Hawks are equipped with similar equipment – the health and usage monitoring systems, or HUMS.
These aircraft systems are designed to minimize maintenance, eliminate operator errors and maximize flight hours. The technology also may eliminate unnecessary inspections that drive up maintenance costs and risk damage to healthy parts by allowing maintainers to predict when parts will need replacement.
On the UH-60A and L helicopters, HUMS was a post-production element. However, the newer Mike model integrated the system into its design.
"When they designed the Mike model, they incorporated the HUMS into things like the wiring harnesses, in a format you can read because it has multi-function displays," said Chief Warrant Officer 4 Kyle Hill, standardization pilot for Task Force Wings, 4th Battalion, 101st Aviation Regiment.
The Alpha and Lima models, which use the original HUMS, have a computer chip that must be removed from the aircraft and the data uploaded to a computer post-flight. While this information is still valuable, the feedback is not immediate like it is in the Mike model, in which the data is visible on a computer screen in real time.
"You can touch buttons and bring up those pages on a computer screen in the cockpit," Hill said.
Most people have heard of the black box. Well, technically, it is orange. Both HUMS and IVHMS have a "black box," which contains the Flight Data Recorder and Cockpit Voice Recorder. This enables post-crash data review to recreate and evaluate what happened in a downed-aircraft incident. Not only could it assist in determining the cause of the crash, it could prevent future accidents due to that particular cause.
Thirty years ago, when an accident occurred, the lack of information available limited investigators to speculation on what happened. With HUMS and IVHMS installed in the aircraft, investigators can examine what happened at each moment and pinpoint what went wrong, said Chief Warrant Officer 4 Joel Sizelove, the production control officer with TF Lift.
There are many systems in an aircraft and many things that could go wrong. HUMS is an early warning system that detects whether the aircraft is facing any possible issues.
"It is very easy to work with," said Sutton. "It records all information, and it can pinpoint a problem, eliminating the guesswork."
With HUMS in place, every flight is a test flight, saving hours – possibly days – worth of man hours that would have been spent poring over each system – each part – to determine potential problems.
Crew members seem to agree, HUMS cuts their man hours in half.
"[Without HUMS on board, it would take us] probably about double the time or more, especially on engine problems," said Staff Sgt. Ryan Munsterman, a platoon sergeant for Company A, TF Lift. "In many cases where a pilot thought they saw an engine indication out of the norm, but couldn't remember the exact [part], we can look it up on HUMS, which in many cases eliminates a test flight to try to reproduce the problem."
HUMS also saves money because there's less guesswork in replacing parts that might have more life left in them.
"It gives us the ability to monitor the condition of the aircraft components and have warning of impending failures instead of replacing them at a set number of flight hours," said Al Chapmon, a field service engineer for TF Thunder in theater. "This enables the unit to minimize downtime and mission aborts due to maintenance, as well as reducing the cost of spending on components and minimize scheduled and unscheduled maintenance."
If a tire on a passenger vehicle is not balanced, it causes vibration in the wheel, potentially causing damage to the axle and the steering column, at minimum. Similarly, if a helicopter blade is not properly weighted, the vibrations could cause unnecessary stress on components and the air frame. HUMS provides feedback that help maintainers recognize improper balance.
"It allows us to see how the rotor is flying, and HUMS provides solutions for weight, pitch change rod, and trim-tab adjustments to smooth out our vibrations in the aircraft without having to do a full track and balance and test flight," said Munsterman.
Most importantly, HUMS can help save lives.
"It keeps us from flying an aircraft with a component that might possibly fail in flight," said Chapmon.
"It's all about safety," said Sizelove.