APSU Sports Information: APSU Soccer

Clarksville, TN – The season's final non-conference matches are due up for Austin Peay State University women's soccer team, beginning with a 4:30pm, Thursday match against Lipscomb at Cofer's Chapel practice field.

The Lady Govs (5-2) recently completed a weekend split at South Alabama's Port City Classic. APSU defeated Troy, 2-1, a team that handed the Lady Govs their first loss of 2010, before falling to host South Alabama, 2-1, to wrap it up.

Austin Peay's typical Friday-Sunday schedule has been altered due to Lipscomb's proximity, less than 50 miles away in Nashville. In fact, it's the only Thursday game for Austin Peay, but it could not come at a better time with Ohio Valley Conference action beginning next week.

"This is a big week for us, being able to play Thursday and Sunday," head coach Kelley Guth said. "Lipscomb is a great rivalry game for us and we always look forward to it. We're excited to play. Conference play is right around the corner and opportunity to prepare lies in these next two games."
A formidable offense can be cited for the Lady Govs early success, especially when looking at the play of sophomore Tatiana Ariza and junior Emily Perkins. Ariza is the NCAA leader with 3.57 points-per-game, while her 10 goals ranks second, nationally. Perkins, meanwhile, is ranked 22nd nationally, with six goals scored. APSU's 4.14 goals-per-game average also sits atop the NCAA leaderboard.
One of the keys for Guth's team this week is improving its transition game. A strong attacking midfield has been a signature for the Lady Govs, with sophomores Joceline and Andy Quiceno, along with Natalia Ariza and junior Jocelyn Murdoch. Being able to possess while moving forward is a necessity in order to open lanes for Tatiana Ariza and Perkins.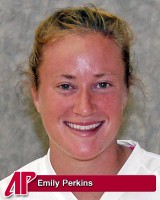 "Our team is geared up and focused," said Guth. "We want to fine-tune some things and get ready to play for what counts. We need to improve our transition game and make sure everyone understands their roles and responsibilities on the field."
With all the offense, the Lady Govs have had to turn renewed focus to the defensive end. They opened the season splitting time between senior keeper Mackenzie Ladd and Haylee Shoaff, but it's been Shoaff playing the majority of minutes in recent games.
The back line has been injury-riddled, losing both juniors Sara Kluttz and Jazzmine Chandler. Sophomore Emily Kink has evolved to play center back, along with freshman Taylor Van Wagner. Sophomore Corey Osborn and junior Renny Robinson, meanwhile, play the sidelines.
Lipscomb (2-4-1) has wins against Southern Miss and Nicholls State, but also have dropped matches against Central Arkansas, UT Martin and Chattanooga. The Bisons have been outshot, 95-69, but have only allowed nine goals. Meghan McGuire accounts for four of Lipscomb's eight goals scored, with four other players having one goal. Erin Zerio has played all seven games in net, making 33 saves.
Sections
Sports
Topics
Andy Quiceno, APSU, APSU Athletics, APSU Soccer, APSU Sports, APSU Women's Soccer, Austin Peay State University, Bisons, Central Arkansas, Chattanooga, Clarksville TN, Corey Osborn, Emily Kink, Emily Perkins, Haylee Shoaff, Jazzmine Chandler, Jocelyn Murdoch, Kelley Guth, Lady Govs, Lipscomb, Mackenzie Ladd, Nashville TN, Natalia Ariza, Nicholls State, Ohio Valley Conference, OVC, Port City Classic, Renny Robinson, Sara Kluttz, South Alabama, Southern Miss, Tatiana Ariza, Taylor Van Wagner, Troy, UT-Martin