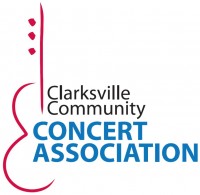 Clarksville, TN – The Claremont Trio, widely regarded as the premier piano trio of its generation, comes to Clarksville this Friday, October 14th as part of the Clarksville Community Concert Association 2011-12 series.
The Claremont Trio is sought after for its thrillingly virtuosic and richly communicative performances. These truly remarkable and personable musicians are known to "put the life back into music" says Dr. Morton Goldberg of Lebanon, Tennessee who heard them in concert in Boston.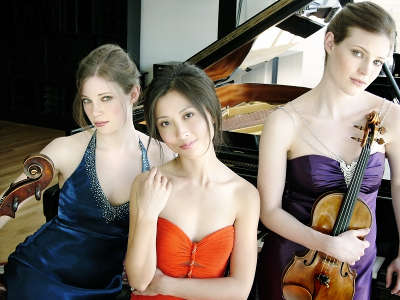 These gifted ladies on piano, violin, and cello are the only piano trio ever to win the Young Concert Artists International Auditions. Consistently lauded for its "aesthetic maturity, interpretive depth, and exuberance" and hailed by BBC as "splendidly enjoyable," the Claremont Trio offers a beguiling concert experience for Clarksville audiences. Dr. Emily Hanna Crane, professor of violin at Austin Peay State University, believes "their presence on campus serves as a vital reminder to our music majors that as musicians it is our privilege to continue to grow as professional performers and educators. The members of the Claremont Trio not only perform at the highest artistic level, but they are active in community and educational outreach, areas in which our students will be involved in the future."
This concert promises to be a delightful and enriching experience for the entire community. The program begins at 7:30pm at Austin Peay State University's Music/Mass Communication Building's Concert Hall.
For ticket information or questions, visit www.clarksvillemusic.org or call 1.877.811.0200.
About Emily Bruskin
Emily Bruskin has performed as soloist with the Quincy (MA) Symphony Orchestra and the Milton Academy Orchestra and has given solo recitals in Boston and at The Juilliard School's Paul Hall. As a member of the Firebird String Quartet, Ms. Bruskin was a prizewinner in the 1998 Fischoff National Chamber Music Competition (Junior Division) and a recipient of the New England Conservatory's Eugene Lehner Chamber Music Award.
She has also performed with the Orpheus Chamber Orchestra and participated in the Ravinia, Lucerne, La Jolla, Moab, Norfolk, Aspen, Encore, and Musicorda summer festivals. Ms. Bruskin began studying the violin at the age of four. She attended the New England Conservatory Preparatory School, where she received the Frances B. Lanier Award.
In May, 2002, Ms. Bruskin graduated summa cum laude from Columbia University with a BA in Neuroscience. The following year she received her MM from the Juilliard School, where she worked with Donald Weilerstein and Ronald Copes. She has also studied with Naoko Tanaka, Cho-Liang Lin, James Buswell, Susan Kent Reed, Gregory Fulkerson and David Updegraff.
About Julia Bruskin
Julia Bruskin made her debut with the Boston Symphony Orchestra when she was 17 after winning their Young Artist Competition. She recently made her New York concerto debut in Avery Fisher Hall performing Barber's Cello Concerto with Jahja Ling and the Juilliard Symphony. Additional concerto appearances include playing the Walton Cello Concerto with Benjamin Zander and the NEC Youth Philharmonic Orchestra in Jordan Hall, Boston.
In 2004, Ms. Bruskin won the Schadt String Competition and placed third in the International Johannes Brahms Competition in Austria. She has also won concerto competitions at the Juilliard School and at the New England Conservatory of Music, and has been recognized by the Harvard Musical Association and the National Foundation for Acheivement in the Arts. In the summers, she has performed at La Jolla Summerfest, the Taos School of Music, and at the Mostly Mozart, Caramoor, Bard, Ravinia, Norfolk, Great Lakes, and Moab music festivals.
Born in Boston, Massachusetts, Ms. Bruskin began cello lessons at age four. Her major teachers have included Timothy Eddy, Joel Krosnick, Andres Diaz, Norman Fischer, and Nancy Hair. She graduated from Columbia University in 2002 with a degree in Eastern European History and was elected to their chapter of Phi Beta Kappa. When she received her Master of Music degree from the Juilliard School, she became one of the few students to complete the five-year BA/MM exchange program between Juilliard and Columbia University.
About Donna Kwong
Donna Kwong made her concerto debut with the Seattle Philharmonic Orchestra at the age of thirteen, and has since appeared as soloist with various orchestras, including L'Orchestre Symphonique de Montréal, Pacific Symphony, Virginia Symphony and the Vancouver Academy Symphony Orchestra. She has performed as a soloist and chamber musician throughout Canada and the United States, including Lincoln Center, Weill Hall at Carnegie Hall, Banff Centre for the Arts, and the festivals of Bowdoin, Taos, Lucerne, Ravinia, Yale/Norfolk and Moab. Ms. Kwong has been featured on CBC Radio and on New York's WQXR Radio.
Donna Kwong grew up in Vancouver, Canada, where she began her piano studies at the age of seven. Only two years later she received national recognition, winning top prizes at the Canadian Music Competitions, Dorothy A. Andersen International Piano Competition, B.C. Festival of the Arts, CIBC National Competition, and Gina Bachauer International Piano Competition at Juilliard. In addition, she won the gold medal for the Royal Conservatory of Music's Associateship in Piano.
Ms. Kwong received her Bachelor's and Master's of Music in the prestigious Accelerated Bachelors/Masters degree program at The Juilliard School, where she was a Piano Minor Teaching Fellow. She has studied with Yoheved Kaplinsky, Robert McDonald, Lorraine Ambrose and Jane Coop. She is now a member of the award-winning Claremont Trio, which actively tours the United States and abroad.