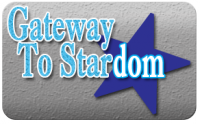 Clarksville, TN – The Gateway to Stardom Talent Show that was rained out at Riverfest has been given a new performance date and venue.
On Saturday, October 22nd from 1:00pm to 7:00pm on Strawberry Alley, you will see all of the talent contestants vying for the $2,500 cash prize awarded by Daymar Institute. National Talent Scouts will be part of the judges for these talented young performers.
You will also see guest artists: Chris Monholland; Fort Campbell's Operation Rising Star finalist, Keisha Williams; and the band "What We Were". Admission is free.
For more information, contact Kelly Maselli, Gateway Realty Investment Group and A+ Property Management, 124 Franklin Street at 931.245.4663.