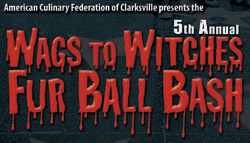 Clarksville, TN – The stakes have been raised! The top five male photos and top five female photos receiving the most donations by midnight Friday, October 28th will be featured as finalists.
All other finalists will receive a gift bag crammed with goodies, which now will include newly acquired prizes from Cumberland Pet Sitting, Elite Pet Spa and Chick Fil-A! Also, for Mr. & Miss Wags to Witches 2011, they have secured a free Pet Massage from DC Royalty! This is all in addition to the prizes originally outlined.
If you have not submitted a photo, you have until 3:00pm today (Monday). If you have, be sure to email, call, text and further harass your friends and family to vote, vote, vote throughout the week so you can take advantage of this prize package!
For more information, see: Clarksville Humane Society's Pet Photo Contest