Written by Spc. Shawn Denham
PAO, 2nd Brigade Combat Team, 101st Airborne Division (Air Assault)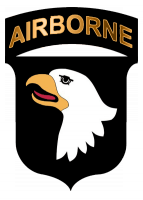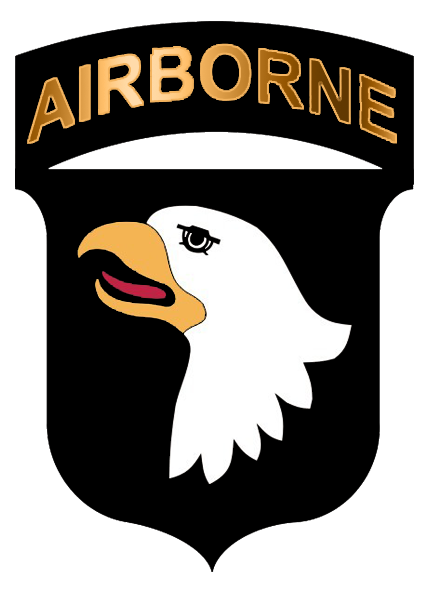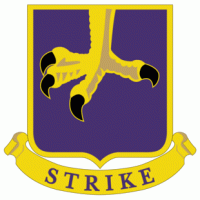 Fort Campbell, KY – Training can be as simple as a manual or online PowerPoint presentation, or more complex, such as an extended outdoor field exercise involving all aspects of modern combat. Soldiers build new skills or perfect old skills during such training events and sometimes participate in challenges designed to both instruct and assess their abilities at the same time.
Engineers from Company A, 2nd Brigade Special Troops Battalion, 2nd Brigade Combat Team, 101st Airborne Division (Air Assault) participated in the 'Sapper Stakes' Competition at Fort Campbell, KY, October 26th.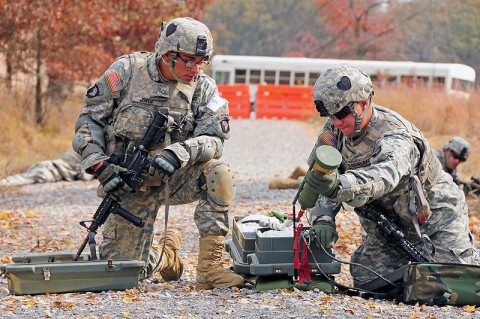 The Sapper Stakes is a four-day event hosted by brigades within the 101st and allowed engineer teams to practice their skills and compete for recognition.
On Monday, the first day of the competition, the event lanes were set up and the competitors were briefed on upcoming events. On Tuesday, day two, the sappers competed in a series of events, including a non-standard physical fitness test and obstacle course. Tests for weapons qualification, weapons assembly and crew-served weapons were also conducted, followed by a land navigation test. From there the Soldiers competed in a first aid test, medical evacuation test and a 'call for fire' 60 millimeter mortar test. The third day began with a 12-mile road march, where the engineers conducted reconnaissance and inspected key locations throughout the route for security purposes. The road march presented its own set of challenges to the Soldiers of Sapper Beast.
"We reviewed roads and bridges during the march to see what materials they were made of," said Sgt. Jacob Brock, a combat engineer with the Strike's Sapper Company and a native of Mason, Ohio. "This lets you know what the roads can handle and what kinds of vehicles you can drive on them."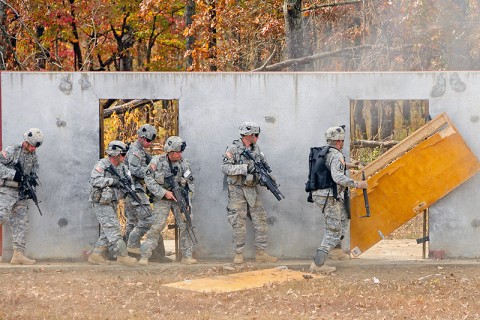 Once completed, the Soldiers rested briefly before continuing their day.
"After [the road march] we're going to be involved in engineer events," said Sgt. Justin Roesch, a squad leader and combat engineer with the company and a native of Detroit, MI. "We are really going to be 'sappering up' and doing our job."
The events included a series of time based tests involving things such as obstacle emplacement, road destruction, obstacle breaching, mine detection and clearance and basic security measures, said Roesch.
"This is a bunch of demolition events to see if we can perform well at our jobs," said Pfc. Sean Novisel, a combat engineer with Sapper Beast and a native of Donora, PA. "This is a training exercise and competition all-in-one."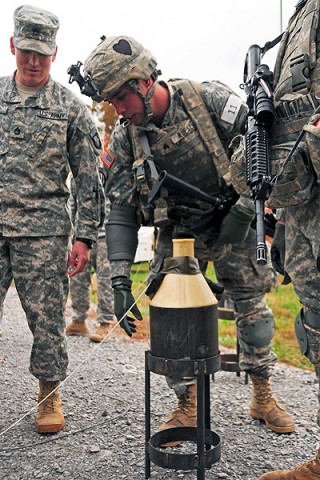 Being a sapper meant there is a lot of work to do but a lot of fun to be had as well, said Novisel.
"Its fun to blow things up,' said Novisel.  "A lot of what [engineers] do involve explosives."
Teams conducted every task individually while graders watched and appraised the sapper team's performance.
"Most of my team deployed together," said Roesch. "We have a lot of experience with demolitions; I believe we'll do very well in those events."
Sapper Beasts' performance is important to the unit as well as individual Soldiers, said Roesch.
"I just became squad leader so this is an evaluation of where I'm at as a leader as well as where my Soldiers are," said Roesch.
On Thursday, the final day of the competition, the teams participated in a combat run while carrying items such as water jugs, medical litters and an inflatable raft called a zodiac. The competition closed out with personal equipment inventory, and a bar-be-cue get-together hosted by the Family Readiness Group, where awards were presented to the winning teams. Sapper Beast received 4th and 5th place for two of its platoons, with the ultimate 1st place award going to 3rd Brigade Combat Team, Rakkasans.
Strike Brigade continues to encourage its Soldiers in their training and personal performance. Events such as the Sapper Stakes help build camaraderie between Soldiers as well as foster a spirit of friendly competition while preparing them for whatever mission they may face on deployment.