Clarksville, TN – The Kiwanis Club of Clarksville their "Interview A Veteran" Essay Contest Winners program Tuesday, November 8th 2011. The Essay contest was open to all Clarksville Montgomery School System and Fort Campbell students ages 6-12.
Each school winner was awarded a plaque and a $100.00 gift card by the Kiwanis Club of Clarksville. The Middle School and High School Division winners received a U.S. flag formerly flown over the U.S. Capitol, a special patriotic award, and an additional $100.00 gift card.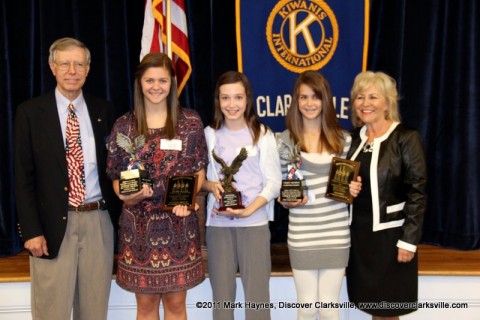 Opening remarks were made by Ron Smithfield, Memories of Service and Sacrifice chairman.
"The Kiwanis Club's 'Interview a Veteran' Essay contest is now in it's 12th year with over 12,000 students having interviewed veterans or active military." said Smithfield. "The purpose is to 'Connect the Generations' so these young citizens can appreciate the sacrifices of our military and veterans made that allow us to enjoy our freedom we too often take for granted."
There were 616 essay entries this year. The contest is broken down into a Middle School Division and a High School Division. Each school selected winners that were sent on to the judges. The judges were Eleanor Williams, Dr. Dewy Browder, Dr. Greg Zieren, Gerry Gilman and Randy Rubel.
"All the judges agreed that this year's essays were the best we have ever seen which is a tribute to the teachers, principals and schools." commented Essay Director Debbie McGaha Bratton.
Each of the finalists read parts of their essay to the audience during the program.
The Finalists for the Middle School Division were as follows:
Grace Hinson, 8th Grade, Clarksville Academy, Teacher and Principal is Tracy Burkhart.
Alayna Pike, 7th Grade, Kenwood Middle School, Teacher: Michael Buchanan, Principal: Bart Dixon.
Jacob Walrath, 7th Grade,Mahaffey Middle School, Teacher: Jolene Jenkins, Principal: Hugh McKinnon.
Skyler Johnson, 7th Grade,Mahaffey Middle School, Teacher: Jolene Jenkins, Principal: Hugh McKinnon.
Michaela Larson, 8th Grade, New Providence Middle School, Teacher: Laura Borens, Principal: Laura Barnett.
Connor Haas, 6th Grade, Rossview Middle School, Teacher: Shannon Ronald, Principal: Anna Neubauer.
Arianna Reiley, 7th Grade, Westcreek Middle School, Teacher: Mrs. Pollard, Principal: Mr. Feldman.
The Grand Middle School Winner was Grace Hinson of Clarksville Academy. Her essay was titled "How Corporal Billy Granville Hinson Served and Sacrificed for Our Nation".
Sitting around the campfire, they often found themselves telling stories of home during the long, cold nights. He dreamt of his Tennessee home and family. It was bitterly cold and many of his friends had died from freezing during the night. He had to be pulled off the front line because he had pneumonia. His legs were frost bitten so severely that they had to carry him on a stretcher back to camp. Lying there he started thinking, what would happen if his mother received a letter saying he had not made it through the war. He could not picture his mom in such pain. He made the decision he had to survive for her. The last thing he remembered is praying, "Lord, please help me make it home and if it be your will, let me see my mamma…"

Grace Hinson
The Most Heroic award went to Skyler Johnson of New Providence Middle School.
The Finalists for the High School Division were as follows:
Seth Sitter, 10th Grade, Clarksville Academy, Teacher: Angelia Johnson, Principal: Mike Marciano.
Autumn Brown, 10th Grade, Clarksville High School, Teacher: Heather Bryant, Principal: Phyllis Casebolt.
Elizabeth Hickman, 9th Grade, Fort Campbell High School, Teacher: Kathy Duerr, Principal: Mohan Vaswani.
Maria Boyer, 12th Grade, Kenwood High School, Teacher: Edward Coleman, Principal: Hal Bedell.
Kayla Clark, 12th Grade, Northwest High School, Teacher: 1SG James Lewis, Principal: Eduard Stephens.
The Grand High School Winner was Autumn Brown of Clarksville High School. Her essay was titled "How CW3 Scott Schroeder Served & Sacrificed for Our Nation".
In the middle of July in 2010, Mr. Schroeder left for an eight month deployment to Afghanistan. He said his unit was going village by village by village, working hard to help the Afghanis take control of their lives. On December 10th, 2010, he was traveling in a convoy when his vehicle drove over an improvised explosive device (IED). While he was still in the field, both of his legs were amputated above the knee. His right arm was severely injured, had significant tissue loss, and was full of shrapnel. Additionally, it was fractured and broken. As if those injuries were not enough, he also suffered a mild TBN (Traumatic Brain Injury).

A few days after the explosion, Mr. Schroeder was transferred to a base in Germany. When he was stable enough, he was moved to Walter Reed Medical Center, arriving there on December 14th. His long road to recovery began then and he has had over thirty surgeries. The majority of these surgeries have been on his right arm, as doctors tried desperately to save his arm from being amputated. Unfortunately, the arm damage slowed down the recovery process.

Autumn Brown
Autumn Brown also won the Most Inspiring award.
It was easy to see why the judges had a hard time picking a winner from this group of students as all of the essays were well written and researched. Everyone in attendance was silent and attentively listened, while the students read their essays that told of the sacrifices and hardships endured for our county.
"It is important to keep this before our young people to let them know the sacrifice that has been made to keep this country great and to protect our freedom." stated Eleanor Williams, County Historian.
Ron Smithfield said "I want to give special thanks to the parents, teachers, principals, and veterans or active duty personnel who guide and mentor these young citizens. They give us optimism for the future of this great country."
Congratulations to all of the school winners.
Photo Gallery
About Memories of Service and Sacrifice
Based on the belief students can learn from the experiences of those before, the object of the Memories of Service and Sacrifice project goes beyond the desire to record the memories of those who have served their nation. While this itself is a worthwhile goal, MSS hopes to be able to share these experiences with students by using the recorded materials as learning resources for classroom instruction.
The archived interviews and other resources will provide a rich understanding of the events of history and their affect on the people who lived through them. Clarksville Kiwanis "Memories of Service & Sacrifice" Project is a cooperative effort with The Customs House Museum, Clarksville-Montgomery County Library, Austin Peay State University, Fort Campbell Historical Foundation, and various Veterans Groups.