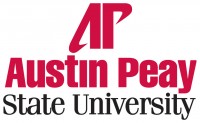 Clarksville, TN – Several faculty and staff members as well as some students at Austin Peay State University have been recognized for their recent professional and scholarly activities.
Dr. Doris Davenport, professor of nursing, was nominated for the March of Dimes Nurse of the Year Award.
Dr. Sara Gotcher, associate professor of theatre and dance, helped to write and direct "Who's Coming to Dinner?" for the Montgomery County Historical Society in October. On a separate note, she played the role of "Ophelia Owl" in the Clarksville Children's Theatre production of "Animal Tales: Pumpkin vs. Pie" in October at Dunbar Cave State Park. 
B. Chris Hardin, professor of voice and movement, recently had his article, "Wrestling a Bear: Alabama Shakespeare Festival Fills Theatre, Draws New Audience with Play on Local Icon," published in the Fall 2011 issue of Southern Theatre magazine.
Darren Michael, professor of acting and directing and coordinator of the APSU Area of Theatre and Dance, presented a workshop, titled "Stage Combat as Story not Safety Concern," at the Tennessee High School Speech and Drama League's Fall Conference in August hosted on APSU's campus.
Dr. Melony Shemberger, assistant director of communication, has been certified as a Level 1 USA Track and Field coach. She successfully completed a 21-hour weekend course held in November in Nashville and passed an online examination.
Dr. Carter Smith, assistant professor of criminal justice and homeland security, recently was interviewed by Fox News in Memphis for a story about gang enhancement laws.
Jose Vazquez, coordinator in the Office of Admissions, addressed more than 200 students at the Second Annual La Sangre Llama Conference/Latino College Fair on November 11th in Nashville.  His presentation, titled "Road to Success," addressed goal setting and various paths to college. Students in attendance were high school students part of the YMCA Latino Achievers program.
Dr. Jeanette Zyko, assistant professor of double reeds, played principal oboe with the Azlo Orchestra in Carnegie Hall on November 11th. The concert, titled "Amazonas," featured works by several Latin American composers and was the first in a series of concerts promoting Latin American music and musicians.
Sigma Theta Tau Nursing Honor Society received a Call to Leadership Award for relief efforts provided during the May 2010 flood. APSU nursing students Sigma Theta Tau responded and volunteered their time to assist the people stranded by the floods.