APSU Sports Information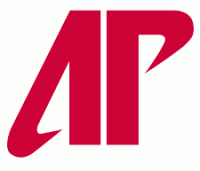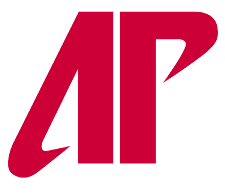 Clarksville, TN – Two former star athletes and a legendary coach/administrator will be inducted into the Austin Peay State University Athletics Hall of Fame, Saturday, January 28th.
Jay Bailey, an All-America running back during the Governors' non-scholarship era, and Ashley Haynes, the only player in Lady Govs' basketball history to score 1,000 points and grab 1,000 rebounds, are the two athletes to be honored while Cheryl Holt, the longtime volleyball coach who also has served in numerous capacities at Austin Peay, also will be inducted in the 9:00am breakfast ceremonies.
The induction ceremonies will see the APSU Athletics Hall of Fame grow to 100. The newest inductees and their families also will be honored during halftime ceremonies of APSU's home contest against UT Martin.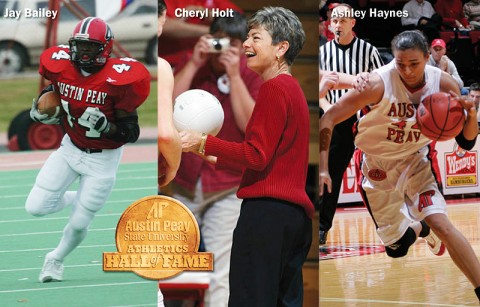 Jay Bailey
Bailey, a former star football player and basketball player at Clarksville High School, actually began his college athletic career as a basketball player at Volunteer State Community College. But after one year, he transferred to Austin Peay to play football.
He found his real niche on the football field, where he combined power and great speed to emerge as the Govs best player during the non-scholarship era. He battled injury issues both as a sophomore and junior, but finished 2000 with 736 yards rushing and 2001 with 569, combining for 13 TDs over the two seasons. One touchdown, in particular, was memorable during his sophomore campaign. At Valparaiso, with the Govs backed up at their own one-yard line, he took a handoff and raced up the middle. By the 15-yard line, it was apparent no one was even going to come close to catching him on the school-record 99-yard run.
However, it was Bailey's senior year that set him above all other running backs in APSU history. He led I-AA (now FCS) in rushing with 1,687 yards and yards per game (140.6 ypg) while scoring 18 touchdowns in 2002.  He put together three straight 200-yard games in setting the Governors single-season rushing record.
Bailey was named first-team Associated Press and American Football Coaches Association I-AA All-American. He also was chosen first-team Mid-Major All-America and first-team All-America by the Football Gazette.
That came on top of being voted 2002 Pioneer Football South Offensive "Player of the Year" by the league coaches in helping Austin Peay have its first winning season since 1984.
Bailey also was named second-team Academic All-America as a senior.
Ashley Haynes
Haynes was part of the most successful era in Lady Govs basketball history.  She was a member of the 2002-03 and 2003-04 Lady Govs squads who won both OVC regular-season and tournament championships, advancing to the NCAA tournament.
Like Bailey, Haynes was a local product (Northwest High School) and even though she was joining a talented, veteran team as a freshman, she immediately moved into the starting lineup. In fact, Haynes would start 116 straight games.
Haynes was named to three All-OVC teams, including a pair of first-team selections (2003-04 and 2005-06), and was named to OVC All-Freshmen team in 2002-03.
Little existed that Haynes could not do on the basketball floor. Not only is she ranked as the program's all-time leading rebounder (1,080) but as well is ranked fourth all-time in scoring (1,497 points). In addition to that, she is ranked in Top 10 in 17 different statistical categories, including blocked shots (third), assists (fourth), steals (sixth) and field-goal percentage (.503/sixth).   
Not only is Haynes the Lady Govs career rebound leader, but she as well set the school single-season record with 374 rebounds (13.4 rpg) during her senior season in 2005-06. In averaging 16.9 ppg and playing a school-record 38.0 minutes per game, Haynes led the Lady Govs back to the OVC tournament after a year's absence.
The forward was remarkably consistent during her Lady Govs career. As a freshman, she averaged 11.3 ppg, shooting 54.7 percent from the floor, and 6.5 rpg. Then as a sophomore, with stars Brooke Armistead and Paige Smith gone, she averaged 11.9 ppg while helping out teammate Gerlonda Hardin even more so on the glass with a 9.2 rebound average. As a junior, again she was just barely below 12 points per game (11.7) while averaging 8.5 rpg.
That was the precursor to her incredible senior season which saw her score 474 points and grab 374 rebounds in just 28 games.
Off the court, Haynes was equally proficient, receiving the OVC Academic Medal of Honor as a senior for owning the highest GPA among a conference-sponsored  sport while also being named CoSIDA Academic All-District second-team.
Cheryl Holt
Holt came to Austin Peay in 1982 as volleyball coach, hired by then-APSU athletics director Johnny Miller, and served in that capacity for 23 years. She amassed 363 victories as APSU head volleyball coach-most  of her victories came in her final 13 years as coach when more emphasis was placed on women's sports, but in particular, volleyball-and ended with 499 overall Division I volleyball victories in 28 years.
The Columbus, Ohio native received back-to-back OVC Coach of the Year honors in 1991 and 1992. She earned the 1991 honor after leading her squad to the OVC tourney championship, becoming the first non-Kentucky team to earn the title. The next year, she led the Lady Govs to the regular-season title. Holt also was named OVC South Coach of the Year in 1986 and 1987 during the old North-South format.
Holt led Austin Peay to 19 straight OVC tournament appearances while posting five 20-victory seasons along the way, highlighted by the 1992 team's 28-7 overall record, including a 15-1 OVC record.
When Holt return to APSU in the early 1980s, she came at a time when women's sports coaches were asked to coach multiple sports-she was hired to coach volleyball and women's tennis (1983-85). Later, she also served as assistant women's basketball coach.
Then in 1986, Holt was asked to serve as softball coach as the University initiated its softball program. Using mostly student-athletes from other teams like women's basketball and volleyball, Holt was able to field a team for the 1986 season, playing their games at city-owned Edith Pettus Park. She coached the team again in 1987.
To honor her multiple coaching achievements, Austin Peay renamed Lady Govs Field to Cheryl Holt Field last spring.
Holt has served in the University's athletics administration since 1997, when Loos was named Athletics Director. She took over as Senior Woman Administrator at that time and then became Assistant Athletics Director after she retired from coaching in 2003.
Tickets for the Hall of Fame breakfast are $10.00 per person. For more information about the breakfast, telephone Tara Pfeifler, 931.221.6119.