Austin Peay vs. Morehead State | December 31st, 2011
Ellis T. Johnson Arena | Morehead, KY

Morehead, KY – When you lose an iconic athletic figure in the Ohio Valley Conference it takes time to adjust.
Austin Peay experienced that when it lost Bubba Wells after the 1996-97 season and then Trenton Hassell after the 1999-2000 season.
Morehead State is now experiencing life without Kenneth Faried, who is now playing for the NBA's Denver Nuggets. After a slow start, Morehead State is beginning to adjust to life without the star center who ruled the boards during his four-season career.
After struggling in the early going, losing three of their first four games, the Eagles have steadily progressed and entered the Christmas break winning its last two games, including a victory against MAC favorite Ball State.
But the Eagles hit a bump in the road in their OVC opener, losing on the road to Southeast Missouri, 67-51.
Guard Terrance Hill has become the go-to guy, averaging a team-best 13.2 ppg while point guard Ty Proffitt is at 9.4 ppg.
Both Morehead State and Austin Peay are intent on avoiding opening OVC play at 0-2. The Governors are coming off a kick-in-the-stomach, 67-65 loss at Eastern Kentucky, Thursday night. It was a contest that saw APSU rally from a five-point  halftime deficit to lead by 10 with less than five minutes. But a halfcourt offensive meltdown in the final 2:29 saw APSU blow a five-point lead as the Govs enabled the EKU rally by committing four turnovers in that span.
TyShwan Edmondson led the Govs with 18 points, fueling APSU's second-half rally with 16 in the final 20 minutes. John Fraley tallied his season's first double-double with 15 points and 14 rebounds as APSU held a commanding 43-28 board advantage. Josh Terry also added 15 points.
The Eagles-Govs' 11:00am (CT) contest Saturday will be the first OVC/ESPNU telecast for 2011-12.
Governors Pardon
This is Austin Peay's 80th season of basketball.
Dave Loos, APSU's all-time winningest basketball coach, also is the OVC's all-time wins leader with 354 victories. He also has 436 career coaching wins.
The Dave Aaron Arena playing floor was named Dave Loos Court, Summer 2007. Loos is believed to be one of only three current Division I men's coaches who are coaching on courts that bear their respective names–Duke's Mike Krzyzewski and Syracuse's Jim Boeheim–are the other two. Valparaiso's Homer Drew, who retired after the 2010-11 season, had the floor named after him last season.
Since 1993-94, Austin Peay has finished no worse than fifth in the OVC standings.
What You Should Know
The Series: This is the 101st meeting between Austin Peay and Morehead State with the series split evenly at 50-50 after Morehead State won two of three meetings a year ago. On December 21st, 2010 in Clarksville, the Governors defeated the Eagles, 86-85 in overtime on a Josh Terry reverse layup. On January 29th, the Govs lost in Morehead, 69-56. Then in the OVC tourney semifinals in Nashville, the Eagles pulled away for a 68-49 decision on its way to the OVC tourney title.
Deeper Meanings
What A Win Would Mean: The Govs would gain their fourth 2011-12 victory. They would improve to 4-11. It would make the Govs 4-3 in December. It would be APSU's second road victory. It would allow the Govs to even OVC play at 1-1. It would give APSU a 51-49 overall lead in the series. It would improve Loos to 27-18 all-time against Morehead State. It would improve Dave Loos to 5-8 all-time against Morehead State coach Donnie Tyndall. It would be Loos' 437th career coaching victory and his 354th APSU win.
What A Loss Would Mean: The Govs would fall to 3-12 on the season. They would end 2011 amidst a three-game losing streak. They would open the OVC season at 0-2. It would be the first time APSU opened 0-2 in the OVC since the 1997-98 team did such. The Govs would fall to 1-8 on the road on the season. It would mean Austin Peay would have a losing record against two current OVC members, with Murray State being the other. It would drop Dave Loos to 26-19 against the Eagles.
No Fast Start
When Austin Peay lost to Eastern Kentucky, Thursday night, it was the first time the Govs have failed to win its OVC opener since the 2005-06 season.
Board-Um
When Austin Peay outrebounded Eastern Kentucky, 43-28, it marked the third straight game APSU had out-rebounded an opponent. It was just the fourth time APSU had out-rebounded an opponent this season. The 15 rebound margin also represented a season best.
Not So Frail Work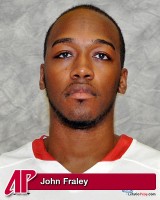 When John Fraley recorded 14 rebounds against Eastern Kentucky it tied for the center's second most single-game rebounds during his four-year career.
It also was the most rebounds by a Gov since he had 18 against Tennessee State, February 13th, 2010.
Double-Double
When John Fraley scored 15 points and grabbed 14 rebounds versus Eastern Kentucky, it was his first double double this season and his career's 13th.
Ty-Dyed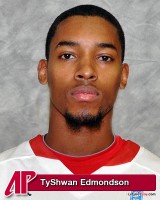 When senior guard TyShwan Edmondson scored 18 points, Thursday night, against Eastern Kentucky it marked the fourth straight game the senior had scored 18 or more points. That came after three straight single-digit scoring performances.
Edmondson is averaging 21.3 ppg over that four-game span, shooting 51 percent from the floor.
Terry Towel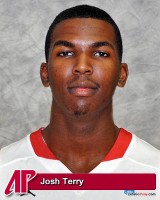 Senior forward Josh Terry snapped a two-game single-digit scoring streak with 15 points against Eastern Kentucky on 7-of-15 floor shooting.
He also had seven rebounds and a game-high five assists, matching his career high.
Technically Speaking
Senior forward Melvin Baker saw his streak of eight straight double-figure scoring games end at Eastern Kentucky when he finished with six points.
Baker, who was 2-of-8 from the floor on the night, picked up a technical foul with 8:21 left in the game and was not re-inserted into the lineup by head coach Dave Loos. Baker did have eight rebounds, three assists and two blocked shots in 26 minutes of play.
Line-Up Shuffle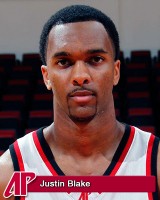 Looking for more offense, the Governors used a new starting lineup against Eastern Kentucky. TyShwan Edmondson started at point guard while junior Justin Blake made his 2011-12 first start at the other guard spot. They are joined by John Fraley along with senior forwards Melvin Baker and Josh Terry.
It was the eighth different starting lineup used by the Governors in 14 games this season as Austin Peay attempts to find the right chemistry. APSU used seven different lineups for the entire 2010-11 season.
Defending The Arc
Eastern Kentucky entered Thursday's game averaging 7.2 three pointers made per contest. The Govs held the Colonels to just five three pointers in 24 attempts, a paltry 20.8 percent.
Three-Point Struggles
Austin Peay's season long struggle from the three point line continued against Eastern Kentucky. The Governors made just three three pointers, including two by TyShwan Edmondson, in 11 attempts. Edmondson now has made seven of Austin Peay's last eight three pointers over the last two games.
Benched Bench
With TyShwan Edmondson back in the starting lineup against Eastern Kentucky, the Govs' bench production noticeably slipped. APSU received just 11 points from its reserves on just two-of-eight shooting.
Turnover Troubles
For a second straight game Austin Peay was charged with 17 turnovers in it loss to Eastern Kentucky. After committing six  turnovers in the first half, the Govs almost doubled that figure in the second half, with four coming in the final 2:29 of the game.
Assisted Living
When Austin Peay was credited with 15 assists against Eastern Kentucky, 11 of the 15 came from the forward positions.  Forward/guard Josh Terry led the way with five while Will Triggs and Melvin Baker each had three.
Warming Up
Although the Govs shot only 41.7 percent (25 of 60) from the floor against Eastern Kentucky, it still was the fifth straight game APSU had shot 40 percent or better from the floor, a modest achievement considering in the Govs' first nine games this season, they broke the 40 mark just twice.
Next Game
The Governors next game is Saturday, January 7th at the Dunn Center in Clarksville, TN as they face the Murray State Racers. Tipoff is at 7:00pm and will be broadcasted on ESPNU.