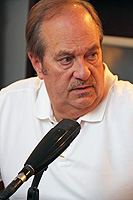 Penn State football coaching legend Joe Paterno died this weekend, 14 hours AFTER the media said he did.
Disgraceful.  And I was part of it.
This is the problem with all of the media we have now.  EVERYBODY gets to be a part of it.   The explosion of social media in our lives allows us all to "spread the news" in a manner we've not been accustomed.
Saturday night it was reported by a Penn State publication called "Onward State", that former coach Joe Paterno had died.  It was picked up by CBS and the Huffington Post.  Of course by the time the family was able to set the record straight that Paterno WAS alive, Twitter and Facebook had already spread the news around the world.
Just like that!
Read the order of events here.
I posted the news on my Facebook page after seeing the report on CBS.  I mean, CBS FOR GOD'S SAKE!
Surely it was accurate.
It wasn't.
I've been a journalist/reporter for nearly 40 years.  I know how to gather, write, record and report a story.  Better than most.  I was ashamed and embarrassed about what I had done.  I felt "duped".
It made me keenly aware that you can NEVER, EVER believe everything you read.
This is the problem with so much media.  Most of it is "crap" now anyway, and it's made the serious news outlets have to "react" to the news and do whatever it takes to "break" a story, even if it means not checking all the facts.
"Get the widow on the set" (Don Henley)
CBS and The Huffington Post are licking their wounds today.  The editor of the "Onward State" immediately resigned.
I'll be more cautious when I "trust" the news, and work harder to be more responsible myself.
It's vital that we TRUST the people who report the news, and TRUST the facts that they deliver.  Lord knows you can find whatever opinion that suits you.
Just my two cents.