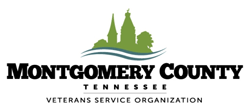 Montgomery County, TN – The Clarksville-Montgomery County Career Center, in conjunction with the Montgomery County Veterans Service Organization, will host a Veterans Information Seminar beginning at 10:00am, January 31st, at the William O. Beach Civic Hall, Veterans Plaza, 350 Pageant Lane.
Veterans will hear presentations from representatives of several local agencies about employment services, job placement, veterans' preferences, homeless programs, disability compensation, dependent benefits, GI Bill and VA health care, among other programs and services.
Assistant Director Stacey Hopwood will give a briefing about the array of services offered at the Montgomery County Veterans Service Organization, and Michael Elliott will discuss services for veterans available through the Career Center.
For more information, contact Michael D. Elliott, veteran outreach specialist with the Department of Labor and Workforce Development, Clarksville Career Center at 931.648.5530, ext. 106, or by e-mail at .